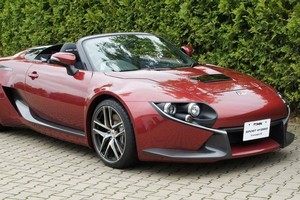 Toyota's new all-wheel-drive roadster concept could signal the return of the MR2 nameplate.
The GRMN Sports Hybrid Concept II appeared at the Nurburgring circuit during the 24-hour endurance race on the weekend and is an update of the original concept shown early last year.
Reports said Toyota would put the car into production if public reaction to it at the Nurburgring was positive.
The GRMN moniker stands for Gazoo Racing tuned by Meister of Nurburgring, a tribute to Hiromu Naruse, the head of Gazoo Racing and Toyota's veteran test driver who was killed in a car crash last year.
The concept is part of a push by company CEO, Akio Toyoda, a racing enthusiast who is on a mission to win keen drivers with the hybrid roadster and upcoming FT-86 coupe, which Toyota has developed with Subaru.
The FT-86 coupe itself could wear another Toyota badge from the past, that of the Celica.
The GRMN, like the first concept, is based on the old MR2 platform, but designers have given the new car a more sculpted design that visually ties it closer to the FT-86 coupe.
The first GRMN petrol-electric concept used a mid-engined 3.3-litre V6. The second version has 3.5-litre V6 engine that delivers 182kW to the rear wheels.
An electric motor at the front axle completes the all-wheel-drive package and boosts total output to 220kW.
The engine and electric motor are borrowed from the Lexus RX450h hybrid SUV.
The hybrid roadster is larger than the previous concept, with a length of 4350mm and width of 1890mm, making it slightly bigger than an Audi TT. A height of just 1200mm is lower than a Mazda MX-5.
THE GOODS
Engine
* Type: Petrol V6
* Displacement (cc): 3,456
* Maximum output: 182kW
* System Maximum output: 220kW
* Body Length (mm): 4350
* Width (mm): 1890
* Height (mm): 1200
* Wheelbase (mm): 2,75
* Weight (kg): 1500 or less
* Vehicle layout: Mid-engined with front electric motor
Tyres
* Front: 225/40R19
* Rear: 255/35R19