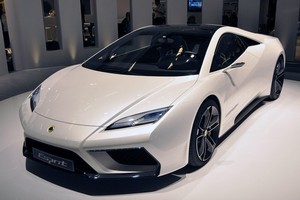 Niche British sportscar maker Lotus will build its own V8 engine for its upcoming range of supercars.
The new engine will be a 4.8-litre V8, designed and built at the Lotus factory in Hethel, Norfolk.
It will weigh about 170kg, or 80kg lighter than the engine from the Lexus IS-F that was going to be used under the bonnet of the Esprit.
The IS-F engine was vetoed by prospective buyers, who thought the reborn carmaker should produce its own engines.
Also, the Toyota V8 was deemed too big and too heavy.
It will be fitted to test mules for road tests this year.
The Lotus V8, with a flat-plane crankshaft and a dry sump, will develop 425kW at 9000rpm and 540Nm at 3000rpm in standard tune.
It will sprint from zero to 100km/h in a claimed 3.4 seconds. Output will be increased to 460kW in even faster R versions.
The 4.8-litre engine will be fired up on a test bench on August 18 and used in a new LMP2 racing car.
It will then appear in the Esprit - due in 2013 in coupe and convertible form - and then the Elite 2+2 drop-top and Eterne four-door coupe.
The engine will be a modular unit, so a four-cylinder unit for the next-generation Elise and a V6 will be produced from it too.
Of the five sports cars revealed at last year's Paris motor show, the Elan has been shelved.
Lotus boss Dany Bahar said the noses of the Esprit and Elan had been redesigned to distance the two cars from each other, but the Elan has now been put on ice.
The Esprit will be the first all-new Lotus to be designed by Dany Bahar's team, and is arguably the most ambitious new car the firm has introduced.
It will be built entirely from aluminium, and its target weight is 1460kg.
Its chassis will be very different to that of the extruded aluminium arrangement in the Evora.
Its "torque tube" design is reminiscent of the original Esprit's backbone chassis. Forged aluminium wishbone suspension features, as does electro-hydraulic power steering.
The technology developed will also be used in Elite, Eterne and Elise Evolution models.