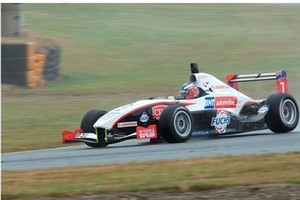 New Zealand open wheel racer Nick Cassidy has been chosen as one of 10 drivers to take part in an Australian reality television series. The show, Shannons Supercar Showdown, will screen on 7mate on Saturday afternoons, starting on July 23.
The winner will get a drive in a V8 Supercar in the Bathurst 1000 endurance race in October, partnering the show's host and racing driver, Grant Denyer, in a car entered by V8 Supercar team Kelly Racing.
A former SpeedSport Scholarship winner and graduate of the Elite Motorsport Academy, Cassidy has finished runner-up and rookie of the year in every class of motor racing he has contested.
He started with Formula First and Formula Ford, and his most recent success has been in the Toyota Racing Series.
"Racing at Bathurst must be every racing driver's dream," said Cassidy.
"I'm stoked to be chosen and really looking forward to the experience."
Apart from the 16-year-old Aucklander, the only other international in the field is British Touring Car driver Andrew Jordan, 21.
The eight Australians, including three female contestants are Amber Anderson, 26, Shae Davies, 21, Nick Foster, 19, Samantha Reid, 24, David Sera, 22, Ben Small, 23, Hayley Swanson, 23, and Cameron Waters, 16.
As part of the show, Kelly Racing is allowing the audience to go behind the scenes and see the garages and workshops of a V8 Supercar team.
Race fans will meet the people essential to the success of a motorsport race team, from engineers and mechanics to designers, dieticians and personal trainers.
The 10 up-and-coming drivers eat, sleep and train with Kelly Racing V8 drivers Rick and Todd, Greg Murphy and David Reynolds.
"We want to build Kelly Racing as the benchmark team on and off the track," said Rick Kelly.
"We take our role as team owners seriously and are keen to encourage the development of new talent into our sport through marketing innovation.
"It's very tough for youngsters to break in, and not many teams are able to give young drivers the opportunity that Todd and I had when we came into the sport.
"Shannons Supercar Showdown is a fantastic platform for us to offer this opportunity to young guys and girls from Australia and around the world."
V8 Supercars pride themselves on a professional presentation on the race track, on television and in the pits and the show will show how much hard work goes on to make the series work.
Viewers will see the ups and downs of the sport and the emotion behind it, and not just the smiles.
For the first time, people will see what happens when a team doesn't go so well, when drivers and crew are upset and how they try to bounce back.
"This is a brilliant concept which again demonstrates the enormous depth of V8 Supercars to have a mainstream reality show based around the living the dream premise," said V8 Supercars CEO Martin Whitaker.
"An enormous amount of hard work has been happening behind the scenes to make this work and I applaud Kelly Racing for its initiative.
"The show is sure to be a big hit and, who knows, it may just unveil the next star of V8 Supercar racing."
Rick's brother, Todd, is also enthusiastic about being able to offer young drivers a chance of grabbing a piece of the pie in one of the world's most watched tin-top racing series.
"I just can't believe the opportunity that these kids have got," he said. "What must be going through their heads right now would be amazing.
"I remember getting the chance to join the Holden Racing Team when I was 17 years old, and that was a long process of getting a test day and then, eventually, getting signed full-time.
"But one of these young drivers is going to drive at Bathurst in just a few months, so what this group has in front of them is a massive opportunity."
Kelly Racing ...
* Fields four cars full-time in the V8 Supercars championship.
* Was founded at the start of 2009 by Todd and Rick Kelly, and is based in Melbourne.
* Employs almost 50 full-time staff and is the only four-car team in the series.
* Has four full-time drivers - Todd and Rick Kelly (Jack Daniel's Racing), Greg Murphy (Pepsi Max Crew) and David Reynolds (Stratco Racing).
Public polling is open on the website speedcafe.com.au, and Cassidy is urging New Zealanders to vote for him.