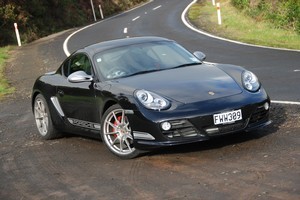 What is it?
This Porsche Cayman R gets the bigger, mid-mounted 3.4-litre engine boosted by 8kW to 243W and 370Nm for a zero to 100 time of 4.7 seconds when mated to the PDK gearbox with Sport Chrono.
More power and less weight - with 40kg dropped over the S, thanks to stuff like aluminium doors, sports seats, 19-inch lightweight wheels and the perhaps indulgent but certainly striking replacement of conventional door handles with a couple of nylon straps.
We keep the air con, radio and satnav that most markets lose, as NZ owners spend more time on the road than the track; either way there's a limited slip diff and new front and rear aero mods.
Of course, there's a catch to all this nimble automotive gorgeousness; the standard car costs $167,500, while our test example takes that to $177,090 by adding Sport Chrono Plus, heated seats and the PDK six-speed auto transmission.
We like
This Cayman R delivers sublime handling. It feels sharper than the S, largely because of a ride height lowered 20mm and firmer springs and dampers, with more downforce at both ends.
The car literally sticks to the road, cornering flat and fast with any hint of understeer quickly addressed by modulating the throttle. Yet ride remains reasonable for the breed; firm, but not bone-jarring.
This engine's a delight too, with a hooligan howl when thrashed, yet an under-stressed cruising performance capable of 9.3l/100km frugality. We suspect most buyers will jump the eight-grand price barrier from S to R without a second thought.
We loathe
There's very little to dislike except, perhaps, the slightly bulbous styling.