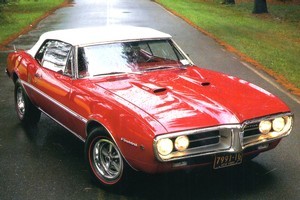 Plymouth Barracuda
The Hemi Cuda with it's 425bhp 426 Hemi engine is still a popular choice on a muscle car list even though in 1969 only 115 Hemi Cudas were sold.
Plymouth Road Runner
Straightforward, fast and feisty. The immense 426 Hemi led the fleet to an astounding 83,000 sales.
Pontiac GTO
The GTO focused on power and performance.
Plymouth GTX
Only 701 GTX convertibles were made in 1969 and only 11 were equipped with the 426 Hemi.
Pontiac Firebird and Trans Am
The signature white-and-blue Firebird Trans Am counterbalanced the odd styling of the regular Firebird.
Chevrolet Chevelle SS
The 375bhp SS 396 package became an option package for all Chevelles. You'll find the SS in top muscle car lists.
Chevrolet Camaro
The 1969 Camaro came with 14 different engines, two body styles and 12 different trim options. The Camaro SS did 0-100km/h in 6.8secs and topped out at just over 200km/h.
Ford Mustang
For 1969, Ford launched a 428 Super Cobra Jet, Boss 302 and a NASCAR-ready Boss 429, capable of 429bhp.
AMC AMX
The AMX was ascetic and burly: 420 horses, no A/C and attitude.
Source: carjunky