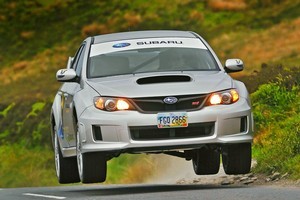 A standard Subaru WRX STi sedan has smashed the long-standing road-car lap record for the 61km Isle of Man TT circuit.
Former British rally champion Mark Higgins posted a time of 19 minutes and 56.7 seconds at an average speed of 183km/h. He blasted through one section at 262km/h.
Higgins' time is more than two minutes faster than the previous record, set by the late Tony Pond 21 years ago in a Rover 827 Vitesse. Pond was the first to break the average 163km/h barrier in a road car.
Higgins had just one lap to set the record - TT organisers would not allow a practice run.
The WRX STi used unmodified brake callipers and ran on road-legal Pirelli P Zero Trofeo tyres. Springs and dampers were adjusted to cope with the bumps and jumps on the circuit.
The car was fitted with safety gear, including a roll cage, race harnesses and fire extinguisher.
To warn spectators of its high-speed presence it was fitted with a high-decibel exhaust.
"Setting the record was both the most exhilarating and the most frightening thing I have ever done," Higgins said.
"The rules allow for a flying start so I crossed the line at 200km/h. I then went down through the Bray Hill junction - normally taken at about 35km/h - at over 240km/h.
"Once that tricky section was out of the way I settled into the lap and quickly got used to the balance and sheer pace of the car.
"In the end the lap was simply fantastic, and the WRX STi behaved impeccably. The engine pulled incredibly strongly throughout and the car's cornering capability proved crucial on such a twisty, unforgiving course."
The outright lap record on the TT course was set in 2009 by John McGuinness on a Honda CBR1000RR Fireblade motorcycle. McGuinness posted 17 minutes and 12.3 seconds, equivalent to an average 212km/h.