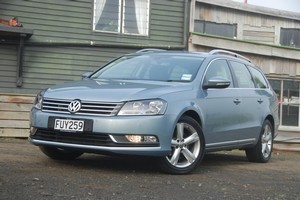 What is it?
The latest Volkswagen Passat wagon, here with the 125kW 20-litre turbo-diesel engine delivering 350Nm of torque to all four wheels from 1750 to 2500Nm via the six-speed double-clutch transmission.
Stop-start and brake energy regeneration help cut fuel use from this quiet, refined motor housed in a sweet-handling car with lots of grunt and plenty of grip that keen drivers will enjoy.
Those seeking more everyday fare will find a smart, well- though out load-hauler with a five-star crash test rating, further boosted if you choose the extra side airbags for the back seats, at $750.
We like
The torquey diesel engine is a goody, with plenty of poke but such frugal cruising that my hilly commute and round-town errands rarely saw the daily average top 6.8l/100km - from a low of 5.8, only just above the 5.6l/100km claim.
We also loved the boot, with luggage rails that let you insert or remove tie-down loops and slide them to and fro, a luggage divider and a flat tray atop the main boot floor to further divide your bags - great when you don't have many and don't want them to slide around.
The set-up is standard in this car, or a $1000 option for other Passat wagons. Meantime, you can fold the second-row seats by pulling a lever; simple.
We loathe
This Passat is so well-specced otherwise that the lack of satnav jars. Want it and you'll pay over four grand on top of the $62,000 purchase price - an eye-watering amount when you look at the quality of today's $300 portable devices.