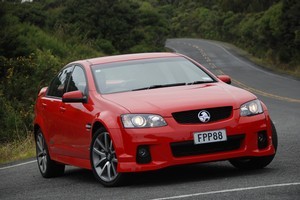 It's a Commodore Jim, but not as we know it. For this power-meister is Holden's 6.0-litre V8 in all its fuel-guzzling, planet-trampling glory, and an eco-warrior. Sort of.
For the VEII Commodore can run on a biofuel blend of up to 85 per cent ethanol mixed with conventional petrol, which is what fuels this test car.
Ethanol isn't a mineral, it's a fuel extracted from biological sources, so plants, fat, manure and domestic waste could all end up in your petrol tank. Unlike mineral fuel, it's renewable and virtually carbon-neutral, as organisms absorb the carbon dioxide that's released when they burn.
The AA says using 30 litres of biofuel a week prevents 250kg of carbon dioxide from hitting the atmosphere annually.
But V8 Supercars don't run on E85 to save the planet, they use it for its higher octane rating - Gull's E85 measures 110 octane, the maximum the measurement instruments can manage. That means it liberates more power while running at a cooler temperature, though it's less energy-dense so you do use more of it.
Just ask Carl Ruiterman, the co-owner of E&H Motors in Pukekohe, who runs E85 in his successful race and drift cars.
His dyno readings show a 100kW gain at the wheels, with power coming on earlier in the rev range. His best results are from turbo cars and those set up to run on the E85 blend.
Better still, "It's cheap for what it does. Any other fuel giving the same results is $9 to $18 a litre and E85 does pretty much the same job. "VP race fuel at $16 a litre gives the same performance as this biofuel."
Ruiterman admits he goes through 30 per cent more fuel, "but for racing we're not bothered about consumption, especially given the power of it".
So what's it like in a road car? Ours is running on fuel from Gull's E85 pump at its Melville, Hamilton station. Its bioethanol is made from whey from the Anchor factory in Reporoa, mixed with Brazilian sugar-cane bioethanol at Mt Maunganui.
Turn the key and you don't initially notice a difference. There's the same lumpy-rumpy idle of a sexy V8 and the same cruisy round-town delivery. But the car responds more aggressively to the throttle, almost leaping off the line.
That's impressive given that at 260kW and 517Nm, the standard Commodore wasn't short of grunt to start with. Meanwhile, the temperature needle sits lower on the dial, indicating the engine is putting in less work. But it does guzzle. The 13.6l/100km average obtained on petrol rose to 15.8 on biofuel after a couple of days of typical daily driving - painful on the wallet given its $2.199 price sits above the standard $2.179 for Gull's 98 octane, despite a 35-cent tax subsidy.
This was an entirely unscientific "experiment" that confirmed you don't have to make performance compromises to take the clean, green route - if you're prepared to pay for it.