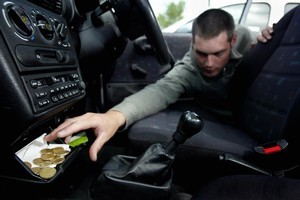 It doesn't matter if you're a man or a woman; if you are travelling solo or have the family in tow, it always pays to think of your personal safety when on the road
A recent spate of handbag snatching from vehicles in Auckland car parks again highlights the need for personal security both on and off the roads.
A group of young male bag-snatchers was last month targeting women returning to their cars from grocery shopping at busy Auckland supermarkets.
In one case, a woman and her husband were about to load their bags into their car when the thief struck while a young male tried to open the car door of another woman to get her handbag.
But men aren't immune to car crimes - a former boss of mine had his laptop stolen from the back seat of his parked car, and a friend had his gym bag taken from his vehicle.
Here are some tips for possession and personal safety when you're out in your car:
- At the supermarkets police advise you put your handbag under the passenger seat, lock your car doors then load the boot.
- Lock laptops, gym bags in the boot of your car when parked.
- Never leave portable navigation systems (such as NavMan and TomTom) visible when you've stopped, instead lock it in your glovebook or take it with you.
- Always drive with your doors locked and if you need to open windows for fresh air, only open them a few centimetres to prevent someone reaching through and grabbing your handbag.
- If your car starts to falter, stop in a safe place rather than continuing to your destination as you could risk your car breaking down in an unsafe area.
- If you think you are being followed, stay on busy and brightly lit streets. Don't drive home, instead head to a police station, service station or somewhere with lots of people. Police suggest you note details of the car and occupant - registration number, colour, make, description of driver and direction the vehicle was last seen travelling in. If you have a mobile phone, call the police while you are being followed.
- If a passing motorist indicates to you to stop, keep driving to a busy area before getting out to check your vehicle.
- If a car ahead of you makes you stop or blocks the road, stay in your locked vehicle and keep your engine running. Sound your horn and flash your lights to not only scare that person, but to get attention from other motorists.
- If another motorist bumps into your car in a quiet or isolated area, get out of your car to check the damage or speak to the other driver. Drive to a place where there are other people before stopping. Note the car's registration number and report it to the police.
Parking your car:
- If you're returning to your car at night, make sure you park it in a spot with adequate lighting.
- Avoid, if possible, parking in quiet or isolated areas, and too close to walls, high fences or vegetation that might provide cover for an attacker.
- In car park buildings, basements or other enclosed areas, park near an entrance or exit, ramp or staircase/lift. Reverse your vehicle into the spot so you can make a quick exit if necessary.
- Do not leave house keys or papers with personal details in the car.
- When returning to your car, have the keys in your hand for quick access.
- As you near your car, look around to make sure no one is following you, or lurking nearby.
- Before you open your car door, look behind the front seats in case someone is hiding there.