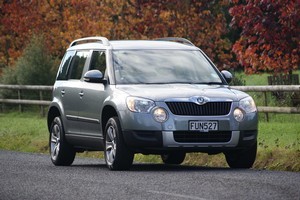 The sport utility/crossover market is big business in New Zealand, accounting for around a quarter of new-car sales.
So you'd think any new entrant with the right price/equipment combination would be pretty close to a sure thing.
But I see some major problems for the latest version of the Yeti, the TSI 77. For a start, it's a Skoda, and even after all this time there seems to be a large group of reactionaries who have image issues with the Volkswagen-controlled Czech brand. Another thing: the TSI 77 might be a compact crossover but it's powered by a 1.2-litre engine, which is certain to cause a headache or two in our capacity-obsessed market. Oh, and it's not even four-wheel drive.
What to make of this little wagon, then? Well, like its bigger brother the Yeti TDI, this is a new-generation Skoda that takes advantage of VW Group technology but goes its own way on styling and packaging. The tiny engine is no cause for concern: it's the same direct-injection turbo powerplant that you'll find in a VW Polo or Golf and does a lot with so little: 77kW/175Nm, a seven-speed Direct Shift Gearbox (DSG) that manages 0-100km/h in a respectable 12 seconds and combined economy of 6.4 litres per 100km.
It's a city car that projects country-cool.
It's a great package for $37,500 - $10,500 less than the Yeti TDI 4x4 - and while this front-driver won't be going anywhere off-road, in truth not many crossover wagons do.
It's a lot of fun to drive. The powertrain is well proven from other products (it's even used in the Audi A3 in Europe) and it has such verve this little Yeti feels a lot faster than it really is. In fact, far from jamming the throttle to the floor all the time, you might need to temper your enthusiasm a little with this car. The engine is perky and the DSG very quick to leap into action if you ask the question, so the softly sprung Yeti is prone to chirping the tyres and even losing traction on the inside-front wheel through tight corners if you get carried away.
Skoda has catered nicely to the status-conscious, as the Yeti TSI 77 is virtually indistinguishable from its more expensive TDI 4x4 stablemate. You might spot the smaller wheels (16-inch versus the diesel's 17in rims) or partial silver finish on the roof rails, but that's about it. Same inside: the TSI misses out on some detail stuff such as climate control for the air conditioning, aluminium pedals, six-disc CD changer and a partition net for the family dog, but nothing you'd call a deal-breaker. Bluetooth cellphone preparation remains a $700 option on both Yeti models.
Think of the Yeti TSI 77 as a small-hatchback with crossover practicality. You still sit high with great visibility, and while the 322-litre boot is disappointingly small, the Yeti does have the brilliant VarioFlex seating system from the Roomster. The rear chairs are split 40/20/40, and each section can be individually folded or removed completely.
Maybe the Yeti TSI 77 will be one for the thinking buyers, then. Let's hope there are plenty of those, because it's a cool little car. You know, for something considered so uncool.
The bottom line:
A Skoda crossover wagon with a 1.2-litre engine and no four-wheel drive? Sounds terrible on paper, but the entry-level Yeti TSI 77 is a brilliant device in practice. Saves you $10k over the Yeti TDI as well ...
Skoda Vision D
Models like Yeti and Roomster look a bit left-of-centre to some, but they've been instrumental in helping Skoda establish its own styling away from parent company Volkswagen.
Important cues include the wraparound windscreen, thick B-pillars and deep tailgate glass. The Czech maker is ready for its next big leap, with a design for an Octavia-sized model called the Vision D revealed at the Geneva Motor Show.
Alternatives
Kia Soul 1.6 $33,990
Nissan Qashqai ST $36,700
Mini Cooper Countryman $46,900
Mitsubishi ASX LX $36,290
Peugeot 3008 $41,990