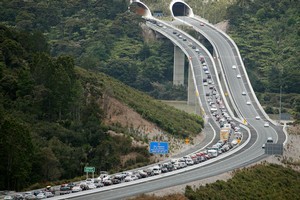 Aucklanders beware: the longer it takes you to drive to and from work, the less likely you are to be happy, healthy and even married for any length of time.
So says a study by university researchers in Sweden. They found that commuters who drive more than 45 minutes each way are 40 per cent more likely to divorce than those on shorter journeys.
The study failed to identify reasons for this, apart from the obvious: that bumper-to-bumper traffic leaves you drained, stressed and robbed of time to do things that matter.
Research on the effects of commuting is nothing new. Studies have linked congested driving conditions with pain, obesity and a general dissatisfaction with life.
One study in the US showed that 40 per cent of employees who regularly spend 90 minutes driving home from work worried about the drive home for much of the day. Their work suffered.
Another showed that spending too much time at the wheel in traffic often led to social isolation. It even quantified the result: for every 10 minutes spent commuting, an employee makes 10 per cent fewer "social connections" or interactions with friends, family and co-workers.
But there is no evidence that the stress of commuting is the reason 20 per cent of drivers in the United States are technically unfit to be behind the wheel.
Finance and insurance company GMAC polled more than 5000 drivers on the rules of the road. Among the findings: one in five drivers - or nearly 40 million individuals - could not meet the basic requirements to get a driver's licence.
Almost 85 per cent of respondents could not describe the correct action to take when approaching an amber traffic light.
About 25 per cent were not sure of safe following distances. One in four women failed the test, against one in eight men. The study also found that older drivers had a better overall knowledge of road rules.

GMAC warned visitors to New York and Washington to be wary. Almost 35 per cent of drivers in both cities were found to be ill-equipped to drive.