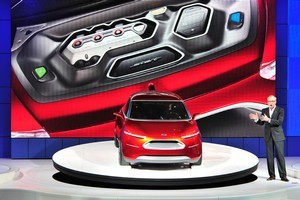 Ford is developing its smallest engine ever, a 1-litre three-cylinder unit with EcoBoost technology and power output comparable to a 1.6-litre four-cylinder powerplant.
The carmaker hasn't made power and torque ratings available, but its US product boss, Derrick Kuzak, called it a "dynamo".
No production timeline was announced, but the engine will be used in Ford's smaller vehicles.
Ford previewed the three-cylinder EcoBoost engine in the Start concept shown at the Beijing motor show last year and said it would elaborate on the engine in September at the Frankfurt motor show.
Engineers in Britain developed the engine, and it is likely to be marketed heavily in Europe, where the price of petrol is much higher than in the United States.
The engine reaches into the EcoBoost technology bin and employs turbocharging, direct injection and twin-independent variable camshaft timing.
"Customers are not really counting the number of cylinders or the displacement anymore," said Ford's vice-president of powertrain engineering, Joe Bakaj.
Ford has achieved fuel-economy improvement of as much as 20 per cent by shrinking engines and by using direct-injection that feeds precise amounts of fuel to cylinders.
The company was aiming for similar gains with this engine, Bakaj said.
Regulators in the United States, where Ford is the second-largest carmaker by vehicle sales, are developing rules that may require average fuel economy of as much as 4.5 litres/100km (62mpg) by 2025, from a requirement of 10.5 litres/100km (27mpg) for this year's models.
Ford last year started offering two different six-cylinder engines in its F-150 pick-up truck - part of the top-selling vehicle line in the United States - after two model-years without offering the smaller engines.
The carmaker had not decided which supplier will provide turbochargers for the three-cylinder engine, said a spokesman, Paul Harrison. Ford also announced plans to add an eight-speed automatic transmission, a move that enables it to keep pace with premium carmakers - such as BMW.
BMW offers it in the 5-Series - and Detroit rival Chrysler has plans to bring such a gearbox to its flagship 300 sedan.
Ford did not say which vehicles would get the transmission.
The company also announced plans to build its next transmission for hybrid vehicles in-house, starting late this year.
The electronic CVT will be built in suburban Detroit.
- Bloomberg