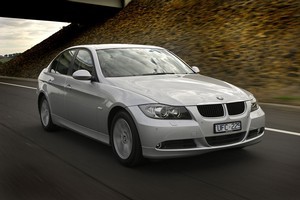 The BMW 320d is good value at around $55,000. Photo / Supplied
The dilemma
Charles and his partner have had a good run with their diesel Volkswagen Golf hatch but they're ready to move up a notch to a sedan that's larger and - sorry VW - a bit more "stylish". They want to stay with European makes, but with "mainstream" Europeans, and to stay with diesel. Like another recent Sellacar couple, they like the idea of buying something about 2 years old to take advantage of the depreciation while still being able to enjoy a taste of that new-car feel. They don't have a need for speed, so cars in the 2.0-litre class would be good. Information in the selection below refers to models 2 or 3 years old; there have been facelifts and revisions since then. For example, an upgraded Merc C-Class is being introduced here now.
The budget:
About $60,000
The shortlist
Audi A4 2.0 TDI
Some call this the car for people who don't want the reverse social stigma of a BMW or Mercedes.
The sleek Audi is distinguished, restrained ... and different. It's also the only member of the group with front-wheel-drive. The others stick with a traditional front-engine/rear-drive setup. The 1968cc motor produces 105kW and 320Nm of torque and is the only one with a continuously variable automatic transmission (with eight programmed "shift points"). Because of the output, its performance is the least energetic, but not by much. Overall fuel consumption is rated at 5.8 litres per 100km and CO2 output is just 144g/km, first equal with the BMW. Ride quality and comfort are impressive.
From about $55,000
BMW 320d SE
Befitting its sporting image, the 320d just manages the best overall performance of the group. It's an invigorating car to drive, with good balance, superb handling and rear drive and you forget it's a diesel, except perhaps when its torque kicks in for wickedly quick highway overtaking. The 1995cc engine is good for 130kW and 350Nm and bolts to a six-speed automatic. Overall fuel consumption is a group-leading 5.4 litres per 100km and its CO2 emissions are the same as the Audi's. The interior is purposeful, sporty-looking and includes BMW's iDrive that controls so many of the car's functions. This feature is loved by some, loathed by others.
From about $55,000
Mercedes-Benz C220 CDI Classic
The Mercedes can be whatever you want it to be, from a mum and pop retirement car to sporty cross-country cruiser. It's all in how you perceive it. Its 2148cc engine is largest in the trio, produces 125kW and 400Nm - that's the best torque in the group - and has a five-speed automatic. Like the BMW, drive goes to the rear wheels. Overall fuel consumption is rated at 6.7 litres per 100km and CO2 emissions, 177g/km. Both figures are worst-in-group but, viewed globally, are still pretty darned good. The C220 Classic does everything well, has even better overtaking ability than the BMW, and interior ambience is pleasant.
From about $60,000