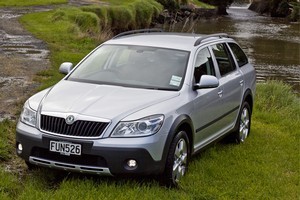 The Skoda Octavia Scout has fine handling and grip.
It's been hosing rain for days and the Super City has become waterlogged and soggy; perfect weather, then, for the Skoda Octavia Scout.
The Scout, essentially an Octavia wagon with all-wheel-drive and extra ground clearance, relishes foul weather. It'd love this weekend.
Pushing on along a winding road in the Waitakere Ranges, visibility next to nothing, rain sweeping across the narrow road, the Scout feels as secure as it would on a sunny day, the lightning-fast Haldex all-wheel-drive system helping keep its nose pointed the right way with neither fuss nor drama.
Powerfully effective blades wipe a clear view of the road and rain ahead. Meanwhile, it's cheerfully warm in the cabin, thanks to automatic air conditioning.
It's a confidence inspiring drive thanks partly to the stoic beat of the 2.0-litre turbocharged diesel engine, a reassuring sound that seems to be saying, "don't worry, I won't let you down". It's enough to cause a reversion to childhood and the Little Engine That Could.
The common-rail engine produces 103kW at 4100rpm but its "can-do" attitude comes largely from 320Nm of torque, available between 1750rpm and 2500rpm. Keep the rev counter somewhere in that band and it's so responsive.
The engine is attached to the six-speed DSG (for direct-shift gearbox) twin-clutch automatic. Members of the Volkswagen group, of which Skoda is one, are big on DSG boxes, which offer the best of both manuals and automatic.
They save on fuel compared with a conventional auto, offer lightning-quick changes in most situations and can be used manually, although clutchlessly, if the driver chooses. Today's DSGs have evolved from racing technology developed by Porsche in the 1980s.
I used the transmission both manually and automatically during my soggy run through the ranges and it performed flawlessly. It's the perfect gearbox for people who swear they'll never drive an automatic. On the other hand, the DSG is complex and costly to make, adding to the price of the vehicle, in this case $51,500.
Other things contribute to the pricetag; the build standard is exceptional and there's a feeling of quality throughout. It's well equipped, although there's still plenty on the options list including satnav for $4200, xenon headlamps and washers for $2000 (good for a day like today) and electric front seats for $1850. Upgrading from the standard high-quality cloth-covered seats to leather-like Alcantara costs $3200.
However, none of these improve the Scout's fine ride, handling and grip. It's easy for anyone to drive, yet a car that will have enthusiasts looking for the longest route.
Cargo space is good, with the rear seats either in place or folded. Capacity is 580/1620 litres respectively. Rear seat room is satisfactory and, for securing the little ones' seats, a pair of Isofix mountings is standard. There's a third Isofix for the front passenger seat.
Fuel economy is good, too. The official overall consumption is 6.2 litres per 100km, and that's what I got, even though much of the test time was in fuel-sucking urban driving. It's rare to match the laboratory-derived figures in actual driving.
Bottom line:
Did they call it the Scout because it's prepared for anything? I think so.