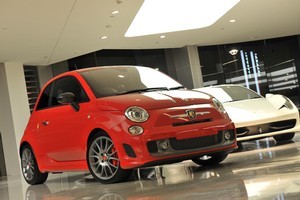 Fiat's most outrageous 500 has landed in Auckland, part of a limited run of 40 Abarth 695 Tributo Ferrari cars to hit Australian and New Zealand shores.
The tiny terror features a 16-valve 1.4-litre Turbo T-Jet engine jam-packed under the minute bonnet.
It delivers 134kW to the performance tyres wrapping 17-inch alloy wheels via a development of Fiat's robotised manual transmission, operated by controls on the shapely race-inspired steering wheel.
Suspension changes and special shock absorbers rein in the slightly wayward handling exhibited by its less powerful Abarth Esseessee sibling, while 305mm Brembo disc brakes take care of stopping.
The car looks pretty special, too, thanks to the front-lip spoiler, the carbon fibre side mirrors and B-pillars, and that cabin with the sweep of carbon fibre dash surmounted by its turbo boost gauge, the Ferrari-inspired buttons, the aluminium accelerator pedal and passenger foot plate. Not to mention lightweight Sabelt racing bucket seats, their shells a swooping carbon fibre curve that'll block the view and threaten the knees of the occasional back-seat passenger, while firmly gripping front occupants as they hurl the little hooligan about.
Best bit? No, not the car's sheer cheek, nor the plentiful Abarth and Ferrari Tributo badges, but the deep-throated soundtrack from the variable back-pressure dual mode exhaust that's designed to deliver its best above 3000rpm. Blip the throttle for a startlingly meaty four-pipe orchestra that'll put many more muscular cars to shame and graphically underlines this car's Ferrari links.
As for the drive experience - we haven't tried it. This first arrival is owned by one of six Kiwis and 34 Australians who've already snapped up our total allocation despite their $79,990 list price.