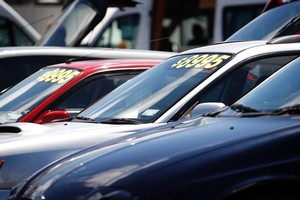 The first questions to ask yourself when buying a car are what you can spend, and what you need. Ideally you'll also love your new wheels - but your car has to fit your budget and lifestyle, too.
What you can afford will determine whether you'll buy pre-loved or new. You can be a car's first owner for under $17,000. If you can afford a new car that fits your needs and plan to keep your car a while, it makes sense to get the latest as you benefit from today's safety and efficiency technology.
Alternatively, consider a near-new model - perhaps an ex-lease or rental car. They have been regularly maintained, the first owner has taken the biggest hit on depreciation, and though they'll be out of warranty they'll have new-car features.
Having decided your budget, what do you need - two doors or four? Wagon, hatch or sedan, large or small, off-road capable or not? Don't rush into making your purchase and try to avoid preconceived ideas. For example, modern diesels are not smoking clunkers, and they're frugal - an important factor with fuel prices rising.
When looking at new or near-new cars, check out the price and specifications of all the models that suit your needs and budget. Then check out independent tests by New Zealand writers - the NZ Herald website is among several that include regular reviews. You'll want to confirm how much the car costs to run, and how safe it is. The AA's website can direct you to real-world and independent new-car crash test results.
Take a test drive, bring along any accessories like car seats to be sure they fit, and if going the finance route, scrutinise the small print.
If you're buying second-hand, review the classifieds to see how much your chosen model should cost - websites like the NZ Herald's, Trade Me and Auto Trader will be helpful.
If you're buying through a dealer, expect to spend more - and get a guarantee. Private sellers and auctions deliver cheaper options without the same peace of mind.
However you buy your used car, get a pre-purchase check from a workshop that specialises in the brand or in independent checks. Ask when the cambelt needs replacing, and ask to see the invoice if it's been done.
Consider getting a vehicle history report from the AA - it'll cost $25 and tell you if there's an outstanding loan on the car, whether it's been reported stolen or the odometer has been wound back.
You can check some of this yourself; make sure the person selling the car is the person named on the papers; how many owners it's had; that the VIN number in the engine bay is the same as that on WOF and rego documents; and when the WOF and registration are due - they should be recent.
If you're considering a used import, check what common parts like windscreen and headlights cost, and whether they're readily available.
Check also that everything you'll need to change a wheel is there - if not, use that as a bargaining tool (once you've confirmed you can buy replacements!).
As the purchaser, you'll do the change of ownership details and pay the fee; and voila! You're the proud owner of a new car.