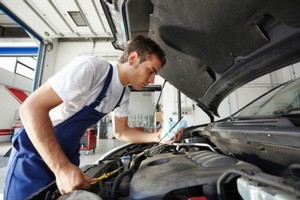 Once upon a time cars required regular fettling to stay healthy, and owners were used to making frequent checks or developed a friendly relationship with their local mechanic.
But with technology like fuel injection rendering regular tune-ups redundant, with long-life spark plugs and service intervals now a year or more apart, it's easy to forget a few maintenance tasks will need regular attention.
"If people can get into the habit of doing a few checks they can save money and keep their car out of the garage," says AA motoring advice manager Jack Biddle.
Read your car's manual or get your service garage to show you how to do the following checks, and they'll become second nature.
Check and top up windscreen washer fluid, brake fluid, oil and coolant levels - remembering that dropping levels in all but the washer reservoir could signal trouble that you'll want to catch early.
Get into the habit of regularly checking your indicators and lights work - including brake lights - so you don't get a shock come WoF time.
When you wash the car you'll spot paint and panel dings, any early signs of rust, as well as chips or cracks in windows or lights and loose trim - and tyre wear.
If you do nothing else, get used to regular tyre checks. It's easier for the car to get correctly-inflated tyres rolling, and it'll use less fuel to propel you along. You'll also be safer, as correctly inflated tyres with enough tread will grip the road as they're designed to. If you don't replace tyres promptly you're playing Russian roulette with the road.
Tyre checking is often neglected, as an AA survey of 150 vehicles undergoing a WoF check in Auckland last year shows. It found 48 per cent had underinflated tyres, and only 17 per cent had tyres within 0.5psi of the recommended pressure.
Jack Biddle says, "To check and adjust tyre pressures is free. It's unrealistic to say weekly or fortnightly, but check them at least once every six weeks, and you'll be doing yourself a favour."
Biddle says those in the habit of doing basic maintenance can save money and keep their car out of the garage. Longer term, he says it's vital to find a trustworthy service provider, who is focused on looking after customers and helping them avoid big, one-off costs. Ideally your service provider will warn you of upcoming work, and always tell you what to expect.
"We get a lot of calls from people who say a lot of work has been done and the garage has made the assumption it'll be okay. You need to make it clear that if a check turns up problems you need to know what they are and what the cost of fixing will be before they go ahead. Communication is key."