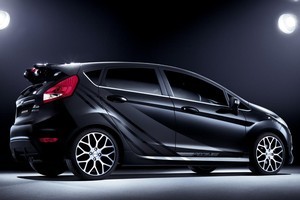 Ford New Zealand has unveiled the limited edition AB35 Fiesta, designed with the help of the All Blacks and on sale from $35,990.
The five-door hatchback was created to celebrate the company's 17-year sponsorship of the All Blacks.
"The AB35 project was all about showing our commitment to the All Blacks this year," said Ford NZ marketing manager Chris Masterson. "We had a huge amount of fun designing this car.
The AB35 Fiesta represents the spirit of our brand. It's a dynamic, premium car that's small on price but big on features."
Ford NZ made only 35 of the AB35 Fiestas, with 34 going on sale this week and one being auctioned for charity on Trade Me until June 8.
Proceeds from the auction will go to three charities; Ford New Zealand's official charity Variety - The Children's Charity and the New Zealand Rugby Union's official charity partners Plunket and KidsCan.
The AB35 project began with a European-built Ford Fiesta Titanium-spec five-speed manual with the Ford 1.6-litre Ti-VCT Sigma engine as the initial canvas.
The Ford design team then transformed the vehicle. The exterior gets new graphics, motorsport alloys, front and rear spoilers and sideskirts.
Inside, there are sports pedals, leather seats with AB35 logo, and a special Sony stereo system, among other special-edition add-ons.
The engine gets a power upgrade from Mountune Performance, a British tuning house that worked on the go-fast Focus RS. The AB35's 1.6-litre unit delivers 104kW at 6750rpm and 170Nm at 4250rpm, an 18 per cent improvement over the standard Fiesta's 88kW/152Nm. The main benefit comes in acceleration - the AB35 Fiesta scoots from zero to 100km/h in 7.9 seconds, against 9.9 seconds for the standard car.
The AB35 Fiesta is covered against defects in factory materials or workmanship for the first 36 months or 100,000km, whichever comes first.