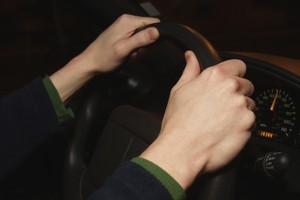 Tell us your story: email newsdesk@nzherald.co.nz
Rudeness, tailgating and inconsiderate driving are among the biggest pains for motorists in New Zealand, a survey has found.
But drivers using cellphones - previously the worst frustration - has fallen out of the top 10 after a law change banned the practice.
This year's AA Insurance Driver Frustration Index shows that last year's most frustrating driver behaviour - driving while using a mobile phone - fell 23 places.
In its old spot are inconsiderate motorists who do not pay attention on the road, ahead of drivers who show no courtesy to others when changing lanes or merging.
Drivers who do not indicate - or continue to indicate after they need to - ranked third most frustrating.
The poll surveyed 3550 New Zealanders aged 18 to 65 to gain a better understanding of what causes drivers to become frustrated and take unnecessary risks.
"Frustrated drivers have more accidents and claim more often, so it's important to understand the habits and behaviours that lead to hazardous driving," said AA Insurance's head of operations, Martin Fox.
"Motorists who fail to give the road their full attention not only put themselves at risk, but also other road users such as pedestrians and cyclists."
Waikato District road policing manager Inspector Leo Tooman said he was prone to road frustrations himself - including at oncoming drivers who signal left at the last second when he is trying to turn right.
He agreed with Mr Fox's concerns that motorists texting and talking on mobile phones was still an issue.
"We are still noticing it," he said.
"The problem is when a person is on a mobile phone they are not concentrating on what they're doing, more the conversation they are having."
Mr Tooman said avoiding road frustrations that could boil over to road-rage came down to "common courtesy in the community".
"It's really about people trying to communicate with each other a bit more."
The survey showed that drivers who increase their speed at passing lanes so others were unable to pass safely ranked fifth ahead of slow drivers who don't pull over.
Auckland city drivers were the only motorists to rate other drivers who parked near an intersection as a top 10 frustration.
TOP 10 FRUSTRATIONS, DRIVERS WHO...
* Don't pay full attention to the road.
* Are not courteous while changing lanes or merging.
* Don't indicate or continue to indicate after they need to.
* Don't dip their lights for oncoming traffic at night.
* Increase their speed at a passing lane so you can't pass and/or slow down after the passing lane.
* Don't pull over to allow others to pass.
* Turn corners from the wrong lanes.
* Follow too closely.
* Park close to intersections and block views.
* Block intersections to get through a phase of lights.
Source: AA