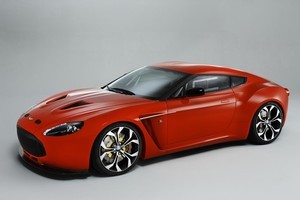 Aston Martin has revealed details and images of its first tie-up with design house Zagato since the two worked together for a limited-run DB7 in 2002.
Based on the V12 Vantage, the new model - called the V12 Zagato - commemorates the 50th anniversary of the very first Aston-Zagato project, the DB4GT.
Dr Ulrich Bez, CEO of Aston Martin, said: "The Zagato design language is a perfect complement to our design and engineering expertise.
"After 50 years of the two companies being associated with each other the partnership has produced some of the world's most iconic cars.
"Of course, 50 years ago Italian design houses were widely seen as leading the way with new designs but now, and supported by our independency, Aston Martin has its own in-house design ability so this new venture with Zagato is more collaborative than it perhaps would have been in the past.
"The task for us has been to create a concept that is a natural successor to those iconic cars that have gone before. Matching the technology of the age with the traditional skills vital to deliver such a bespoke and exclusive sports car will lead to a strictly limited run of road-going V12 Zagatos."
But before then, a stripped-out race-ready version of the car will compete in the Nurburgring 24 hours race.
Underneath the newly crafted aluminium body of the Zagato is the same 6-litre V12 engine from the standard car, producing 380kW and 570Nm of torque.
Production is expected to be well under the 99 units offered of the DB7 Zagato but prices will be similar, with British buyers asked to pay $420,000 for the car.
The V12 Zagato was unveiled in Italy last Saturday, beside Ferrari's coach-built Superamerica 45.
The first DB4GT Zagato shown to the public in late 1960 spent much of its life as a racing car after its launch. Later perhaps the two most famous DB4GT Zagatos, registered 1 VEV and 2 VEV, were raced with success by such names as Jim Clark and Roy Salvadori.