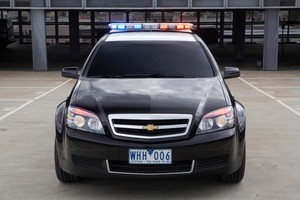 The car Holden built for the US police has shared line honours with a Ford in the annual law enforcement vehicle trials in Los Angeles.
Holden's rebadged Chevrolet Caprice police pursuit vehicle went head-to-head with Ford's new Taurus-based Interceptor. The contest pitted 15 police vehicles from Chevrolet, Ford and Dodge against each other.
The field was made up mostly of big sedans, including the Caprice V8, turbocharged Taurus V6 and Dodge's V8 Charger.
The Caprice, Taurus and Charger are in the running to replace Ford's Crown Victoria when it goes out of production at the end of this year.
The Caprice scored perfect 10s in all categories. The Taurus scored 10s, too, but a nine for brake fade. The Dodge matched the Taurus - but got a four for brake fade.