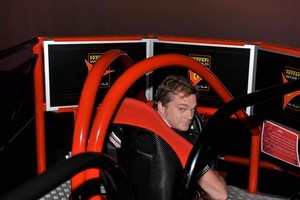 There are plenty of facts the creators of Ferrari World in Abu Dhabi would like to surprise and delight you with. It's the world's largest indoor theme park: vital information in an industry where bigger is always better.
The Prancing Horse logo on the roof covers 3000sq m, making it the largest Ferrari emblem ever created. The underside of the roof boasts the largest space-frame structure in the world, with 172,000 separate members.
One ride, Formula Rossa, is the world's fastest roller coaster: propelled by the same winches that are used to launch fighter jets from aircraft carriers, it hits 100km/h in two seconds and reaches a maximum of 240km/h. G-Force, a ride that lifts you 62m above the park before dropping you back to earth, stands at the highest permissible height for a structure on the flight path to Abu Dhabi's international airport.
Some of these published facts strain credibility. Apparently, if the park was turned upright it would be the tallest man-made structure in the world; except that it's not, obviously. The 86,000sq m interior could accommodate seven football fields end-to-end; except that it doesn't because it's full of theme-park stuff.
Ferrari World is a relatively new attraction - it opened in November 2010. Why Abu Dhabi? Well, why not? The United Arab Emirates (UAE) has one of the highest GDPs per capita in the world and Abu Dhabi holds about 10 per cent of the Earth's oil reserves, so the sound of a Maranello V12 is not unusual in this part of the world.
Here's a Ferrari-World-fact that might really surprise you. The Italian supercar maker might have its name on the door, but it has not contributed a single euro to this mega-attraction. Although it's safe to assume that plenty of money goes back the other way, in the form of licensing fees and revenue from the likes of the Ferrari Store inside (the largest of 40 such shops around the world - naturally).
Yes, the Prancing Horse brand holds a powerful attraction. Although on the day of our Ferrari World visit the two rides most likely to excite the inner-child - Formula Rossa and G-Force - are both closed for maintenance. Which made our Ferrari World visit more of a surprise-and-disappointment affair.
Sans the extreme rides - really, our sole reason for coming - what's left is pretty standard theme-park stuff, albeit with an extra dose of glamour and everything done around a Ferrari theme. I mean everything.
Scuderia Challenge is probably the next most special for the discerning adult: I don't know whether these driving simulators really are "similar to those used by the Scuderia Ferrari drivers in training" as claimed, but they are very sophisticated (although not too different from simulators I've tried elsewhere). The Fiorano GT Challenge roller coaster is not the least bit scary, but it certainly scores on novelty as the two trains race to the finish on separate tracks, with hard acceleration/braking and different race results on different runs.
The glamour rides such as Formula Rossa and G-Force are intended to give you the sensations of being in a Formula One car. Others, like Paddock (a recreation of Ferrari's mobile F1 team headquarters) and Pit Wall (interactive race strategy) are supposed to give you an insight into race weekend. It's all a bit too much Ferrari to be honest but, hey, you don't come here every week.
The strangest thing was watching Driving with the Champions on a giant screen and getting a POV-style thrash on a spectacular piece of road near Maranello - exactly the same piece of road that we'd driven only two days earlier in supercars of our own. A timely reminder that we were a lot more fortunate than most Ferrari World punters and perhaps we could stow some of the journalistic cynicism.
The most pleasing thing for me about Ferrari World is that there's so much here for children. If I'd had mine, along for the trip we'd have happily filled a day or more here: when you've finished watching shows and driving miniature (perfectly proportioned) Ferrari Californias around the scenery of Bell'Italia, you can send the small people to the Junior GT driving school and then on to Junior Grand Prix. Like the new FF, this is Ferrari family fun. But would I go back? Only if Formula Rossa was running.