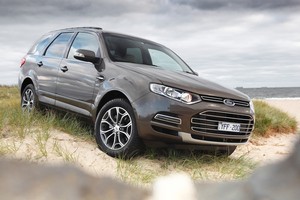 The new-look Ford Territory will start in price at $49,990 when the range goes on sale in New Zealand early next month.
The line-up comprises six models in three spec levels: TS, TX, And Titanium. All come with seven seats and a choice of rear (RWD) and all-wheel-drive (AWD).
Two of the six hang on to Ford's 4-litre straight-six petrol engine, the other four pick up the company's new V6 diesel unit.
The turbo-diesel is a reworked 2.7-litre oil-burner sourced from Jaguar-Land Rover and delivers 140kW of power at 4000rpm and 440Nm from 1900-2500rpm.
It meets Euro IV emission regulations and, with more tinkering, is expected to pass more stringent Euro V tests later in the production cycle.
Ford says the diesel Territory has a cruising range of at least 1000km.
The carmaker claims combined fuel usage of 8.2 litres/100km (34mpg) for rear-wheel-drive variants, and 8.8 litres/100km (32mpg) for heavier all-wheel-drive models.
The diesel unit joins the long-serving 4-litre straight-six petrol engine that carries over from the current model but gets a new cylinder head and inlet manifold.
It delivers the same 195kW/391Nm as before but picks up fuel savings of a claimed 12 per cent for official town-and-around consumption of 10.6 litres/100km, or 26mpg.
The petrol unit is limited to rear-drive models only. The diesel goes into both RWD and AWD. Towing capacity is up, from 2300kg to 2700kg.
All-wheel-drive models also get a new active transfer case that Ford says can detect slip before it occurs and shuffle torque between the front and rear axles to compensate. The previous model had a constant 37:63 front/rear torque split.
The same six-speed automatic transmission fitted to current higher-spec models is now standard across the range and features normal, performance and manual shift modes.
Ford says it put much work into reducing cabin noise. It says the diesel Territory trumps the BMW X5 and Land Rover Discovery4 for in-cabin quietness. Modifications to help quieten diesel chatter, says Ford, include a thicker windscreen, better insulation, and a flat under-body shield that also helps aerodynamics.
A new power-assisted steering system across the range increases steering feel, says Ford, while stiffer springs and anti-roll bars add more control, without sacrificing comfort.
There is also a new Bosch electronic stability control system that includes anti-roll-over protection. The addition of a driver's knee airbag means all new Territory models will be fitted with five airbags.
A redesigned dashboard features the latest touch-screen audio, media, navigation and phone technologies.