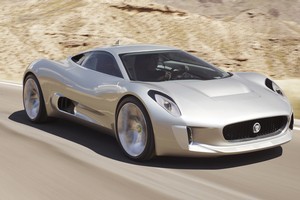 The jet-powered C-X75 will propel Jaguar into the future when it goes into production in 2013 - but the first examples won't be powered by the gas turbines that wowed observers at the Paris motor show last year.
The British carmaker - owned by Indian company Tata - has confirmed it will limit production of the all-wheel-drive super-coupe to 250 examples, most of which will instead use a boosted small-capacity internal combustion engine combined with powerful electric motors, one on each front wheel.
The engine is likely to be a version of the 400kW 1.6-litre four-cylinder unit being developed by Formula One team Williams for the 2013 season. Jaguar and Williams recently joined forces to collaborate on future technology.
Reports in Europe say the final 50 C-X75s will carry gas turbine engines. Jaguar itself has said that at least 50 of the 250 models will be racing versions.
Tata chief Carl-Peter Forster and Williams chairman Sir Frank Williams announced C-X75 production, which will be designed, engineered and built in Britain.
Forster said it was the Jaguar of the future. "Never before has the company launched such an ambitious, world-beating vehicle programme," he said.
He said the hybrid supercar will "stay true to the initial concept design study ... while fulfilling requirements that allow it to be homologated for road use".
The show car has a 0.32 drag coefficient and measures 4647mm long, 2020mm wide and 1204mm. It rides on a 2725mm wheelbase and turbine-themed polished alloy wheels measuring 21 inches at the front and 22 inches at the rear.
"We were always determined that the Jaguar C-X75 would be as striking on the road as it was in concept form," said Jaguar design director Ian Callum.
"This will be the finest looking and most innovative Jaguar ever produced. Even in the world of supercars, we can still produce the most beautiful."
He said his team drew styling inspiration from Jaguar's C-Type and D-Type racers of the 1950s and the 1966 XJ13 Le Mans prototype - a car he regards as "arguably the most beautiful Jaguar ever made".
The C-X75 Paris show car weighed 1350kg and was built to celebrate Jaguar's 75th birthday. It runs on a mix of fossil fuel, lithium-ion battery packs powering four 145kW electric motors, and a pair of range-extending gas turbines developed by British company Bladon Jets.
Jaguar said it delivered total electric power output of 580kW and 1600Nm of instantaneous torque. Power to weight ratio was 431kW per tonne. It had a zero-emission battery-only range of about 120km, before the twin jets kick in to charge the batteries.
The two small (35kg) gas turbine engines are slightly larger and longer than a human forearm. Each produced 70kW at a constant 80,000rpm, on a range of fuels including biofuel, diesel, CNG and LPG.
Bladon Jets said the engine's miniaturised turbine blade increases the compression and efficiency of micro-turbines, "to the point at which they can be viewed as a realistic power source".
Jaguar claimed the show car sprinted to 100km/h in 3.4 seconds, hit 160km/h in 5.5, the quarter-mile (400m) in 10.3 (at 251km/h) and 300km/h in 15.7 seconds, while top speed was quoted at 330km/h. CO2 emissions were claimed to be 28g/km.
Now Jaguar claims the C-X75 road car can sprint to 100km/h in less than three seconds and run on all-electric mode for 50km, all with CO2 emissions of less than 99g/km. The 99g/km would make the C-X75 one of the world's most efficient cars.
Jaguar has priced the production C-X75 at between £700,000 and £900,000 ($1.45 million and $1.87 million) and invited expressions of interest on its website.
It will be left-hand-drive only and the C-X75 moniker is not expected to continue into production.
Jaguar's last supercar was the XJ220, recognised as the world's fastest production car - until the McLaren F1 came along.