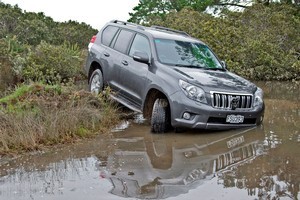 So here's something Toyota didn't see coming. Back when it was planning to resurrect a petrol-fuelled Prado in New Zealand pump prices were around $1.60-$1.70 a litre, but by the time it got to market they were north of $2 and climbing.
Toyota dropped the V6 in the Prado range when it was introduced late in 2009, but there was persistent customer inquiry for the petrol burner. Now, the company's anxiously waiting to see how many buyers step up.
And there's an unpleasant surprise waiting in the owner's handbook; the engine needs 95 octane or higher.
Those holding out for a petrol Prado had a point. The four-cylinder, 3.0-litre turbodiesel engine produces 127kW and 410Nm of torque and that's enough to give the large, heavy, fourth-generation SUV only adequate performance.
The 4.0-litre V6 ups the figures to 202kW and 381Nm respectively and transforms the wagon, especially when the five-speed auto transmission is used in its Sport mode.
It's a bit of a stormer.
The engine is the most powerful and torquiest six-cylinder of any midsize SUV with low-range gearing. So it's hard to understand why the braked towing rating remains at a weak-kneed 2500kg.
Fortunately, fuel consumption is quite good. Its official overall rating is 13 litres per 100km, but over routes including country and urban, Driven managed 14.6.
On the other hand, the diesel version officially consumes 8.8 litres per 100km overall and Driven's most recent tester returned 9.6.
The Prado in VX Limited trim is generally magnificent, immaculately finished, roomy and rich with features. Well, you'd expect that for $106,690 - $1000 less than its diesel equivalent.
Its sixth and seventh seats fold flat into the floor and are electrically raised and lowered. Children will probably enjoy sitting back there.
Despite suspension refinements, ride and handling are only average, even for an SUV and even in the Sport setting. But it sticks to the road well.
Off-road, the VX Limited is competent, but why would you want to tackle our many tight tracks and trails in this large, dentable $100,000-plus wagon?
Bottom line:
V6 petrol power transforms the Prado, but are you ready for the fuel bills?