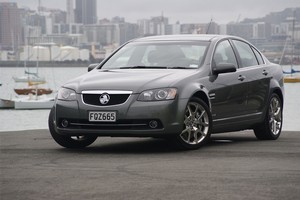 Holden has no problem providing a value alternative to high-priced European sports sedans with the VE Commodore. Forgive a few rough edges (both literal and metaphorical), and the more performance-oriented versions of the big Aussie machine really deliver on straight-line go and cornering prowess.
But here's where Holden has really matured in recent years: while it continues to meet customer demand for loud colours and ludicrously large spoilers, the Aussies have also taken a cue from those European makers in offering performance models with visual subtlety.
The Calais V-series is a case in point - all the ability of the Commodore SS-V, but presented in a package that an actual adult will happily be seen in.
In the next step in that stealth-appeal strategy, Holden now offers what it calls the Redline package on the Calais V-series V8. It takes the dynamics up yet another notch but keeps the styling low-key. Redline brings 19-inch alloy wheels, a Brembo braking system and FE3 suspension - the stiffest and most sporting set-up available on a Commodore.
Status anxiety is not totally ignored. You can spot the Calais-V Redline by the high-gloss finish on those alloys and a sliver of extra chrome around the window line. You might also notice that it rides that little bit lower than grandad's Calais. These seem like small changes on paper, but for the enthusiast driver they make a big impact on the Calais-V. The 260kW/530Nm 6-litre V8 engine and six-speed automatic gearbox are unchanged, but the sports suspension really sharpens up the Calais through the corners.
What's more, it's achieved without too much compromise in ride quality. Holden seems to have stiffened up the Calais sufficiently for the odd track day while maintaining a compliant ride for real-world driving.
It's here you get a sense of the sophistication in the Calais-V Redline. If Audi could tie a car down as tight, yet keep the ride this supple you'd see far fewer architects and creative directors with back problems.
Brakes have often been a weak point in high-powered Aussie sedans, and the inclusion of the Brembo stoppers on the Redline package has solved the problem at a stroke. They're powerful and will stand up to abuse.
The rest of the Calais-V remains untouched. The cabin is vastly improved on the first-generation VE but is still based on a mainstream Commodore, so it's a bit creaky here and there. Clearly, you can't have everything. But you do get full leather, premium sound and the Holden IQ touchscreen, which integrates everything from the Bluetooth mobile connection to satellite navigation.
Back-seat passengers enjoy a roof-mounted DVD entertainment system. It's luxury, even if the quality of the plastics surrounding you doesn't always feel like it.
It doesn't matter that the Redline package is basically leftovers - developments originally undertaken by Holden for its Commodore export programme to America under the now-defunct Pontiac brand. Redline adds so much to the car and requires so little compromise in comfort or cost, adding just $2900 to the price of a $72,390 Calais-V.
If you're still stuck in a wings-and-things frame of mind, you can also have the Redline package on the SS-V. Don't bother introducing yourselves - we'll see you coming.
Bottom line:
The Redline package is a minor tweak on paper, yet adds up to more than the sum of its parts when you drive the car. Calais-V version takes Holden another step closer to prestige-brand sports sedans
Alternatives
Ford Falcon G6E turbo $63,990
Holden Commodore SS-V Redline $74,490
Jaguar XF 5.0 V8 $159,990
Volvo S80 V8 AWD $111,990
A little more eco-friendly
Holden's 6-litre V8 engine uses Active Fuel Management technology, which shuts four of the eight cylinders in low-demand driving. It helps the Calais-V to 12.3 litres per 100km fuel economy in laboratory tests, but isn't much help on real Kiwi roads. The engine is also compatible with E85 (a blend containing 85 per cent ethanol biofuel). Holden says the "well to wheel" C02 output of a tank of E85 is 40 per cent lower than petrol. You get a little more power from E85, but the fuel is slightly more expensive and range is reduced. Oh, and you'll have to go to a Gull station in Hamilton to fill up - at least until more outlets come on stream.