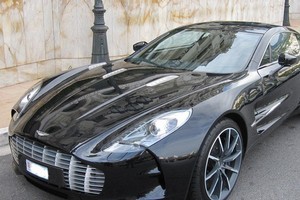 A New Zealand businessman has bought a $2.8 million Aston Martin supercar - thought to be the most expensive car ever ordered by a Kiwi buyer.
The sleek black machine, with a top speed of more than 350km/h, was shipped across Cook Strait last night on its way to its "chuffed" new Christchurch owner, Mainfreight co-founder Neil Graham.
The One-77 supercar, built in April and one of only 77 in the world, arrived in Auckland on board a Singapore Airlines 747 last week.
It will join Mr Graham's collection of luxury cars, which reportedly also includes a Mercedes SL 65 AMG valued at $950,000.
Auckland's Aston Martin dealership, Independent Prestige, showcased the One-77 to clients on Saturday at its Great North Rd showroom after Aston Martin New Zealand sent a technician to the UK with Mr Graham to inspect it.
Although he is not on the NBR Rich List, Mr Graham is worth at least $60 million.
Last year's Mainfreight annual report lists him as holding 6.4 million shares in the company, worth $9.40 each yesterday.
Mr Graham, who finalised the purchase two years ago, was reluctant to discuss his prized vehicle until he had test-driven it, but told the Herald yesterday that he was "chuffed" it was nearly in his garage.
"I think it's fair to say that I'm looking forward to test-driving it."
The car was road-tested in Auckland - a technician was given the job of taking the One-77 "a mile up and down the motorway" to reset its computer, said Independent Prestige general manager Lee Small.
"We didn't want to tell the public about it as we would have been inundated. People were just blown away by it. Really, you're not likely to see anything like it in New Zealand," Mr Small said.
"It's pretty spectacular. It's the only one in Australasia, and we're quite proud we got one into New Zealand."
Mr Small described the One-77 as "an absolute work of art" and said he did not know of any cars that had been bought in New Zealand for a higher price.
The only other car to arrive in the country that Mr Small could compare with the One-77 was a McLaren F1, shipped to New Zealand in the mid-1990s.
"[The One-77] is extremely fast," he said. "It's a sculpture, really. I don't know how often I'd use it."
Aston Martin engineers have pushed the One-77 to a top speed of 354.86km/h, and it has an acceleration rate of zero to 100km/h in just over three seconds.
Aston Martin has described the supercar as "possibly the world's most desirable automotive art form".
The company's website trumpets: "Based on a sophisticated carbon-fibre chassis with a hand-crafted aluminium body, the 7.3 litre V12 supercar will deliver exhilarating performance for a strictly limited number of discerning customers."
The One-77 is custom-built - right down to the pressure of the gear shift selector - and Mr Graham has opted for a black exterior coat with red leather upholstery.
THE SPECS
Engine: 7.3 litre V12
Body: Two-door sports coupe with two seats.
Weight: About 1500kg.
Top speed: 354.86 km/h
Horsepower: 750