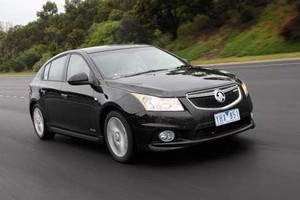 GM Holden has released the first official images of its upcoming Cruze hatchback. Surprise: the car is almost identical to the Chevrolet version that made its global debut in Geneva in March.
The Cruze hatch is being put through its paces across the Tasman, before the launch of the five-door in New Zealand and Australia this year.
It was designed by Holden's Port Melbourne design studio. The hatchback line-up is expected to mirror that of the Cruze II sedan, which went on sale in New Zealand late in 2009.
The engine line-up should also echo the sedan's, which brings improved Euro-5 emissions-meeting engines offering better performance and refinement from the company's two-year, 350,000km validation and testing programme.
A downsized Austrian-made 1.4-litre "iTi" turbo-petrol engine delivering 103kW and 200Nm and matched with six-speed manual and automatic transmissions is joined by a new chassis package comprising Watts link rear suspension and electric power-steering in selected models.
Borrowed from the latest Opel Astra, which highlights the similarities between the Cruze and Astra and their common GM Delta II platform, the iTi components are likely to be available as an option on the entry-level Cruze CD sedan and standard on the new SRi and SRi-V variants.
The SRi has a modified grille and air-intake, a rear lip spoiler and revised alloy wheels, while the SRi-V includes remote keyless entry and start, satellite-navigation, a 10GB hard-drive, CD/MP3 rip and store capability, DVD player and live-radio pause for the first time in the Cruze.
Prices for the 1.8-litre petrol Cruze II sedan models (CD and CDX) are likely to remain unchanged. Expect similar pricing for the hatch.
Holden was given about A$200 million ($365.5 million) from the Australian Government and another A$40 million from the South Australian state Government to produce the Cruze in Adelaide.