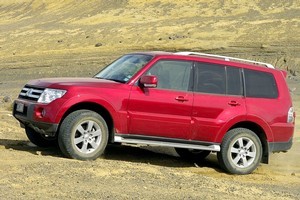 The dilemma
David has just upgraded his job and his salary package. Celia has just upgraded the family with a new baby. Now with five to transport, both want to upgrade the car in their garage, a VZ Commodore. Spurred partly by a salary package that allows David to have the vehicle of his choice to $80,000, and partly because they'd enjoy more space, they want to jump on the SUV bandwagon. But they're a bit worried about fuel prices and while big is good, big and economical is even better. Oh, and they'd like a "proper" 4WD with low-range gearing to get to some of David's fishing spots.
The budget:
up to $80,000
The shortlist
Mitsubishi Pajero GLS 3.2 diesel
An entry model but it still has lots of good gear, seven seats when needed, the ability to be driven full time in 4WD or save a bit of fuel in 2WD, and is a stylish, comfortable vehicle. Its 3.2-litre turbodiesel cranks out 150kW and 448Nm, is rated at 9.2-litres of diesel per 100km overall and can tow 3300kg, braked.
It has independent suspension front and rear, which is good for on-road ride and handling.
From $75,690
Nissan Pathfinder 450T diesel
Upgraded last year, Nissan's mid-sized SUV workhorse packs a lot of specification for its price, including seven seats, sunroof and leather. Pathfinder's styling sets it aside from most other SUVs. Despite having only a 2.5-litre motor, the smallest of the trio, it produces a healthy 140kW and 450Nm of torque, and uses 9 litres per 100km overall. It's rated to tow 3000kg, braked, and also has all-independent suspension. It has by a small margin the best road handling of the trio.
From $76,900
Toyota Prado VX 3.0 diesel
The base GX model of this best seller starts at $80,490 but right now the better equipped VX is on at only $500 more, basically a grand over budget but we're sure that could be haggled away. This thing has equipment for Africa including full-time 4WD, lots of space and seven seats. Its 3.0-litre turbodiesel produces just 127kW and 410Nm of torque; overall consumption is rated at 8.5 litres per 100km. It uses a five-speed auto. Braked towing is a modest 2500kg. Prado has independent suspension at the front, a live axle on coil springs at the back.
From $80,490
Driven recommends
Overall fuel economy of "proper" 4WDs on the NZ market ranges from 7.2 litres per 100km for the wee Suzuki Jimny to 15.9 for the Mercedes-Benz G-Class AMG V8, so this trio represents middle ground in this respect.
The Prado weighs around 2330kg and with five on board, plus gear, its engine begins to struggle a bit compared to its lighter and peppier rivals in this grouping.
Styling preferences are always subjective, but to our eyes, Pathfinder gets the nod. Despite a smaller engine, its performance is peppy.
However, as a competent all-rounder that's reasonably priced and keeps on ticking boxes, Mitsubishi's Pajero is the one we'd recommend to David and Celia.