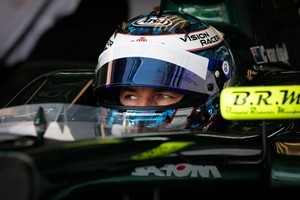 The motorsport season may be winding down in New Zealand but it's just starting to crank up for Kiwi drivers overseas.
Scott Dixon has started his campaign in the US, not too much to his liking in the first three rounds, finishing 16th, second and 18th. Dixon is an established IndyCar racer with two IRL championships and an Indianapolis 500 to his name so he should come good.
It is to Europe, though, that all Kiwi motor racing fans should be casting their gaze as we have six young drivers starting their journey to fame and glory in various international open-wheel classes throughout Europe.
Brendon Hartley, Chris van der Drift and Dominic Storey launched into action last weekend in their quest for honours in the World Series by Renault (WSR 3.5ltr) championship.
Richie Stanaway and Tom Blomqvist hit the track this weekend for the opening of the German Formula Three series and, in a matter of weeks, young Mitch Evans will open his account in the GP3 championship.
Van der Drift's story is one of a comeback kid. He made headlines when he launched himself into the air, via Julien Jousse's car, and almost took out the overpass bridge at Pilgrims Drop during a Superleague race at Brands Hatch last August.
The former Formula Master, Formula BMW and Formula Renault champion broke his right ankle and little finger, fractured his shoulder blade, broke two ribs and severely damaged his left index finger.
Somehow he managed to get back in a race car for the last round of the Superleague Formula where he finished seventh. This year things are looking a lot brighter as he was the best of the Kiwis in the opening WSR 3.5ltr race in Spain last weekend.
"I had zero, nothing, no time in the car before the weekend's race," said van der Drift.
"It was supposed to be just a big test weekend. I was in Malaysia with their [Mofaz] Formula BMW team as a driver coach and they pulled me aside and said 'we're short of a driver for the start of the season, we've got sponsors and you're driving the first two races of the season and it starts next week'."
Van der Drift had been training hard to regain fitness but had not done any actual racing at this point. However, talent will out and he finished a very creditable eighth and 13th to be the leading Kiwi.
"I thought 's***' I've only got a couple of days so started going to the gym every day. I turned up a couple of days before the race but the team was great. The first race was about getting to know the car during a race.
"I got spun around in race two and came from last to come back through the field to finish 13th, which is pretty promising. I was quite surprised but I was like a fish in water and it all went really well," said van der Drift.
Hartley's first outing this year was not so successful and he is, while not quite happy about it, honest enough to say that he was partly to blame for the team's lacklustre performance.
"Not the start to the season I was looking for but there were a few positives to come out of it," said Hartley. "In testing we didn't have any pace but by Sunday I was quick and could have put the car on pole [qualified sixth] but hit traffic on the last two laps.
"Starting in the top 10 in both races I should have converted that to points. The first race I made the mistake and in the second race I got squeezed and my front wheel got touched, which bent a tie rod."
Stanaway is champing at the bit to get his campaign for more glory in Europe underway. He starts his series this weekend after comprehensively winning the German ADAC championship last year.
"Pre-season testing has been quite good but qualifying and racing is going to be a different story," said Stanaway.
"I really like driving a car with much more power and aero than I'm used to. I can't compare it to the last series [ADAC], the cars are so different and it's been a big step up. The racing is going to be a lot more challenging."