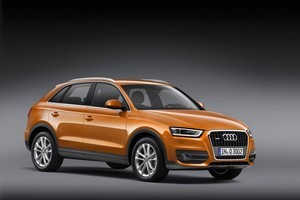 Audi has released the first official pictures of its five-door Q3, a week or so before its premiere at the Shanghai motor show, where it appeared as a three-door concept in 2009.
It is the carmaker's third SUV model, following the Q5 and the Q7.
The five-seater Q3 will go up against top-drawer rivals such as the BMW X1 and upcoming Range Rover Evoque. And like the X1 and Evoque, it will be available in two- and four-wheel-drive guise. The two-wheel-drive Q3 will drive the front wheels, like the Evoque. The two-wheel-drive X1 drives the rear wheels.
The Q3 shares much with Audi parent Volkswagen's Tiguan: the same platform, engines, gearboxes.
Its all-wheel-drive system is the same, too, a Haldex multi-plate arrangement with an electronic differential lock, simpler and lighter than the Torsen-based units used in the bigger Q5 and Q7.
The Q3 is 24cm shorter, 5cm narrower and 5.5cm lower than the Q5. At a claimed 1530kg for the base model, it is around 210kg lighter than the bare bones Q5.
Weight-saving measures include the use of an aluminium bonnet and tailgate on an otherwise all-steel body.
The new SUV sticks to the Audi design language inside and out. There are traditional exterior features such as the single-frame grille and trapezoidal headlamps. The inside shows off a high-quality interior, again common across the line-up.
The Q3 will launch in Europe this year with three engines - two 2-litre petrol units delivering 125kW and 155kW and a 2-litre diesel putting out 130kW. A 102kW version of the same 2-litre diesel is expected later.
Gearboxes include a six-speed manual on less powerful petrol and diesel units and a seven-speed S-tronic dual-clutch for the top-end engines.
The S-tronic has an "efficiency" mode, which uses a clutch to disengage the engine and allow the Q3 to roll freely without any mechanical drag when the driver lifts off the throttle.
The long list of options includes onboard internet. The Q3 will be built in Spain at the VW Group's plant near Barcelona.