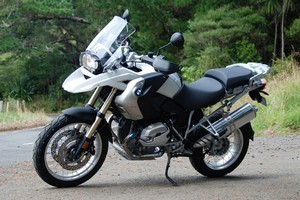 It might look like a big trailie, but only a glutton for punishment would take BMW's R1200GS off-road Kiwi style, if nothing else because it weighs 229kg. That's light for a road bike but a porker in the rough, where the rider has to muscle it about.
However, the GS remains a superlative any-roads bike; comfortable, tractable and with a commanding presence imparted by its height and a serious rep originally earned the hard way, in the infamous Paris Dakar race.
This generation gets an updated motor with a revised cylinder head, a higher redline, an exhaust flap to harden the soundtrack plus a smidge more power.
The $27,964 standard bike has heated grips, an onboard computer, hand guards and pannier racks; our test machine included the electronic suspension adjustment that takes it to $29,240 plus cross-spoked wheels, ABS brakes, a tyre monitor and stability control bringing the total to $32,831.
The electronic suspension adjustment tunes response to suit any combination of one or two aboard plus luggage. Then there's an off-road mode that lifts the bike for greater suspension travel and adjusts the stability control to suit, or serious off-road, which lifted my feet off the ground.
Even with the seat at its 850mm lowest, this is a tall bike designed with strapping great adventurers in mind, and the electronic system is designed for an 80kg rider. Lighter folk can save themselves the money.-
The ABS and traction control can be useful, though, especially given you can switch them off when heading into the rough, where the tyre pressure monitor could come into its own.
But this is a great touring bike, the riding possie suiting all-day marathons, the adjustable screen cutting the wind and those heated grips keeping your mitts warm.
The GS is also a blast to punt through a twisty set of bends - those wide bars and the massive ground clearance let you tip it way over. Meantime the torquey motor pulls strongly out - the generous suspension making light work of our lumpy back roads.
Like the Moto Guzzi Stelvio with which it now competes, a well-ridden GS can embarrass a sport bike through bends while proving a plusher proposition for those boring touring legs.
BMW R1200GS
We like
Super-comfy any-roads capability, adventurous persona
We don't like
Fancy electronic suspension assumes 80kg rider, first gear too tall for tight going
Powertrain
1170cc air-cooled flat twin, six-speed transmission, shaft drive
Performance
81kW at 7750rpm, 120Nm at 6000rpm, 5.0l/100km (achieved)
Price
$32,831 as tested ($27,964 standard)
Vital stats
2210mm long, 850/870mm seat height (low 820mm seat a no-cost option), 229kg wet weight, 20-litre fuel tank