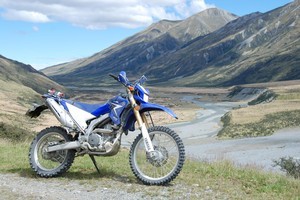 Trail bikes are 10 a penny. But what you need for the Yamaha-sponsored three-day South Island Safari is a dual-purpose bike; a road-registered off-roader with indicators and a headlight.
Yamaha's WR250R fits the bill, here lowered by dropping the steering head down the forks and screwing the lower shock nut in to better suit my 1.66m height. Throw in a change of tyres to Michelin AC10 kobblies chosen to withstand rocky terrain, hand and sump guards and a rear carrier, and we were set to go.
This WR250R superficially resembles the harder-core WR250F but it's a more flexible machine, with a liquid-cooled, fuel-injected, four-stroke motor, plus electric start and a broad spread of power delivered via a six-speed transmission.
A rigid aluminium and steel frame with fully adjustable forks and rear springs with 269mm of travel, plus a 7.9-litre fuel tank and enduro-style digital dash complete the picture.
Our route encompassed more than 1000km of spectacular scenery over three days criss-crossing terrain between Twizel, Tekapo and Methven.
Organised by Britton Adventures, our ride tackled everything from tarmac to farm tracks, including steep rocky climbs and descents.
Top gear delivered easy 100km/h cruising on seal or gravel, where I discovered a tractable bike that encourages gentle drifts around higher-speed shingle corners.
This WR250R steers sweetly and handles predictably, best appreciated in the tighter going of farm tracks or the tricky transition from sudden drops to abrupt climbs via sharp turns through deeply carved stream beds.
Only on the steepest rocky climbs did I hit trouble - created more by my lack of height than any shortcoming of the bike's. There's more than enough power to pop the front wheel over rocks and out of ruts or to scramble round even precipitous hairpins. But once forced to stop it's hard to pull away when you can barely touch down on the flat, let alone a slope more vertical than horizontal. Where taller riders dabbed a foot to keep going I either fell - or shouted "Banzai!" and grabbed a handful of throttle, not always a successful approach given shifting rocks and steep drop-offs.
Some WR riders resort to after-market Yamalinks to further lower their bike, an option worth considering. I had to keep going or accept the occasional fall, when you really notice this bike's 134kg weight. Pick it up a time or two and you know about it.
Still, I made it to Mount Nessing's 1550m summit and its spectacular views thanks to a hand or two, while some were forced to turn back.
The WR250R is a tad heavy, and the rear right footpeg bracket sticks out a bit - though it's easily removed if there's no passenger aboard.
But overall, Yamaha's WR250R makes a great step up from the likes of the entry-level XT, delivering decent suspension action and travel, and plenty of power without getting silly.
Yamaha WR250R
We like
It's a genuine dirt bike that's road legal; flexible power, sweet handling
We don't like
Heavy for a trailie, and Yamalink lowering link not available from Yamaha
Powertrain
250cc liquid-cooled fuel-injected four-stroke, six-speed transmission
Performance
Not available
Price
$12,349 (plus Acerbis hand guards $65, Yamaha sump guard $116, rear carrier $294)
Vital stats
2180mm long, 930mm seat height, 134kg wet weight, 7.9-litre fuel tank