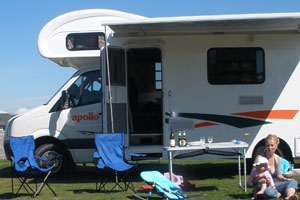 Is it much further? The dreaded sentence any parent with a car has heard 1000 times.
Given that we are just two minutes into a journey that will take us from our home on Auckland's Pohutukawa Coast, around the Coromandel peninsula and on to Taupo and back again over eight days, 4-year-old Ella's query sends a particularly bracing chill down the spine.
As much social experiment as holiday, we've packed our lives - Ella, Mack (2) and Evie (6 months) as they are known - into a six-berth Apollo Campervan and hit the road.
The genesis of the trip was a comment from my wife Kate who, about three years ago, professed in rather baffling fashion that she "loved" caravans. Chocolate - sure. David Beckham - understandable. But caravans? Who could love a caravan?
Needless to say, we've seldom driven past one since without me pondering its loveliness in a loud and no doubt extremely irritating manner. So when the chance came to trial one of Apollo's new Mercedes luxury campers, and stay at any of the Family Parks network of holiday parks, we bit a few arms off.
But with three pre-school kids, none of whom view sleeping at night as especially necessary, just what the hell were we thinking?
The first sight of the camper ("Oh my god it's tiny" - Kate) and the 26th "is it much further?" before we even get home from the Apollo depot to load in an array of toys, pureed foods and infant-suppressant medicines (gin for me) only add to our angst.
What had we got ourselves in for? A truly brilliant holiday as it turns out.
Life in the camper turns out to be a touch cramped but otherwise no dramas.
Our biggest fear, that kids usually segregated in their own rooms would set each other off all night and we'd go from getting sod-all sleep to none, didn't materialise.
As it transpires, the oldest two love top-and-tailing in the berth above the cab, while the baby for the first time in her life actually sleeps like one, held in place on a squab at the back by a smart device called a Safe-T-Sleep.
In the six months since No 3 was born we'd never slept better.
Fear No 2, that the kids would scream blue murder while we drove, turns out to have some substance. But of six travelling days, there are just two truly awful incidents of baby rage, the most unforgettable a harrowing run from Hot Water Beach through to Whangamata.
The oldest two are no trouble, although it's fair to say the DVD player positioned near the middle seating bay where their child restraints are located gets a fair workout, and I can now recite every word of My Little Pony Friends Volume 3.
It is the presence of so many home comforts - a gas stove and microwave for heating bottles, a fridge/freezer and even a shower - that make the campervan an ideal vehicle for travelling with a young brood.
We'd been warned against using the on-board toilet too much as emptying the canister can be an unpleasant experience but it turns out to be a real asset, erasing the need for countless roadside stops. And when you spend half your life buried in soiled nappies, poo doesn't exactly hold too many fears.
Up front, the advantage of height and a huge windscreen provide a fine sightseeing platform, and the vehicle drives like a dream.
Starting out from Beachlands, our route navigates the Thames estuary before crossing over to the eastern side of the Coromandel peninsula.
We then trek down the coast as far as Bowentown, near Waihi Beach before heading inland to Rotorua and Taupo.
It's a truly spectacular drive, with the stretch between Thames and the Coromandel township the scenic highlight.
As for the holiday parks at which we plug in to power up the camper each night, many are national treasures. We stay at Miranda, near the head of the Thames estuary, Coromandel, Hot Water Beach, Bowentown, Ngongataha and DeBretts in Taupo.
All of the parks are based around a liquid attraction. At Miranda, Hot Water Beach and DeBretts there is a geothermal element, while Ngongotaha has its famous trout fishing stream and Lake Rotorua on its doorstep.
Bowentown, which is on a narrow peninsula on the northern side of the Tauranga Harbour outlet, is a classic Kiwi beach park, with the crashing surf just metres from the nearest campsites.
New Zealand has around 400 holiday parks and, while some have been snapped up by developers for prime real estate, the number has remained stable for the past 10 years.
Visitor numbers have increased steadily, with the number of guest nights up 36 per cent over the last decade. Last year holiday parks accounted for 6.4 million visitor nights, which accounts for about 20 per cent of the national total.
Camping is also making a comeback in these recessionary times, with many families opting for a domestic holiday.
It may still be a popular option, but camping isn't quite what it used to be. Powered sites are in high demand, with people bringing TVs and fridges with them.
"Young ladies these days don't seem to be able to do without their hair straighteners," says Sheree Webster, who with husband Grant last year converted their dairy farm into what is now Hot Water Beach holiday park.
The major attraction is the beach, where at low tide you can create your own thermal pool with a shovel and a modicum of effort.
The parks follow a similar plan, with campsites, cabins and motel-type accommodation spread out around a central facilities block where guests can cook, barbecue, bathe or just hang out.
The facilities have moved with the times, with Sky TV viewing rooms and wireless internet hotspots common.
Most parks are a continual works in progress, with the owner-operators pouring much of their revenue into upgrading facilities.
Perhaps the best example of that is Taupo's De Bretts Spa Resort, one of the jewels in the crown of New Zealand's holiday parks. An iconic destination, De Bretts is based around a hot pool complex that was first developed for public use in 1958.
When present owners Barry and Carol Kirkland took over in 1987 the park was in a seriously dilapidated state. But these days it boasts a five-star rating, with a full range of camping, cabin and motel accommodation.
We stayed for three nights, which was the perfect relaxing end to a road trip holiday.
A day spent with Ella catching dinner at the Huka Prawn Park at the Wairaki thermal area was a highlight. Again the camper was pivotal, with the baby put to sleep in the back, 2-year-old Mack preferring to watch DVDs and Mum able to chill out and read a book.
While the mobility of the camper was great, our original schedule of moving on to a new site each day was demanding for the kids. Travelling every second day would probably be the ideal.
If there is one drawback to a campervanning holiday it is the cost.
The bigger campers don't come cheap, particularly in peak season when they can cost over $300 a day. By the time you add $20-$50 to plug in at a campsite and add on diesel costs you can be looking at over $400 a day - a big ask for the average Kiwi family.
But if it's within your means, there are few better ways of taking a trip around our own back yard.
CHECKLIST
* Apollo has a fleet of more than 900 vehicles ranging from 2-berth to 6-berth deluxe. Rates are seasonal. Freephone 0800 113 131.
* Family Parks was established in Australia in 2004 and New Zealand in 2005 and now boasts 20 North Island and nine South Island parks. All parks are rated at least three stars and accommodation includes campsites, kitchen cabins, self-contained units and luxury motels.
* Rates are seasonal, with powered campsites starting from around $20.
Steve Deane travelled as guest of Apollo motorhomes and Family Parks.