The annual Leadfoot festival in Rod Millen's purpose-built Coromandel driveway-cum-racetrack is catching on in international circles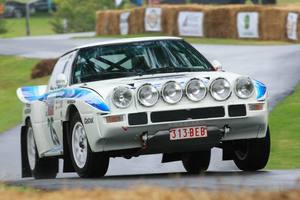 The competition might be closing in fast, but for one more year at least Kiwi motorsport legend Rod Millen is the fastest man up his own driveway.
Not many people can attest to reaching speeds in excess of 170km/h between their house and their letterbox, but then again Millen's purpose-built hill climb course that snakes its way up and over his property in Hahei on the Coromandel Peninsula wasn't designed to be driven slowly.
It's 1.6-kilometre's worth of fast-flowing, silky smooth hot mix that features an elevation rise of 80 metres between the start and finish lines while incorporating 16 corners.
Many of the driveway's design attributes were inspired by the 62-year old's favourite events from an illustrious motorsport career spanning many decades.
The "Leadfoot Ranch" is the fruit of his and his wife Shelly's labour, and over the weekend the gates to the stunning 58ha property were opened to the public for their third annual Leadfoot Festival.
With a collective worth of tens of millions of dollars, more than 100 cars and bikes from a wide range of motorsport disciplines took part in the event. The oldest, a French-built Darracq that competed in the world's first ever Grand Prix event held at Le Mans in 1906, and the newest - a 2012 Ferrari 458 Challenge factory-built racer.
With such an eclectic mix of motorsport machinery ranging from Minis to McLarens; names like Jim Richards, Rhys Millen and local veteran legend Allan Woolf on the driving card; and ZZ Top guitarist Billy Gibbons providing musical interlude at Saturday night's black tie Leadfoot Ball, it's not hard to see why the three-day festival is quick gaining international acclaim.
"I feel like it's really gaining momentum now," Rod Millen told Driven moments after being doused in champagne by fellow competitors at Leadfoot's relaxed post-event prize giving.
"We have a lot more competitors this year, and many more guests - maybe 10 times what we had in 2012 which is fantastic. Over the last 12 months the facility has grown and it can accommodate those people properly, but of course there's still plenty of room for improvement, and that'll be our focus now."
New for 2013 was an optional cross-country detour for the off-roader drivers among the ranks, an air show, and a static Bonneville Speed Week-inspired display with international land speed record-setting machines of the two, four and six-wheel variety parked on a white, salt-look sand base.
To overcome issues brought about by rain at last year's event, a new and expansive sealed pit area was also added, complete with a mock - but full-sized - Mobil service station from a bygone era fitted out with antique fuel bowsers and flanked by a vintage Ford Model T and a late 40s era Diamond T tow truck.
It's those sorts of details that make that Leadfoot Festival an experience rather than just an event.
As for the racing itself, it couldn't have been any closer at the top, with Rod Millen becoming the first driver to dip under 51 seconds.
He did that on the very last run of the weekend behind the wheel of his long-time Pikes Peak International Hill Climb record-holding Toyota Celica posting a 50.92-second run.
"It was fun to be able to grab a bit more speed out of the old car," Rod Millen revealed afterwards.
"It might be 19 years old now, but it runs good and is really fun to drive," he added.
Clark Proctor driving a 1973 March 73A Formula 5000 car finished second overall in the Top 10 Shootout with a 51.60, while former New Zealand Rally Champion Joe McAndrew took third with a 52.71 in the final behind the wheel of a modified 2002 Jeti 1000 single-seater.