Avoiding arrest, Jacqui Madelin puts the MV Agusta F3's tech trickery to the test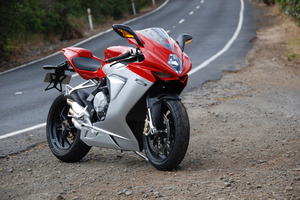 Stopped to buy milk, and returned to MV Agusta's F3 as a tiny lad clutching a melting ice cream swaggered up with the self-important air best illustrated by three-year-olds and a certain class of civil servant. He paused, looked the MV up and down then said, "It looks just like a bike, only with buttons."
Er, yes - but this MV is so much more than that, especially once you use those buttons to get out of the 'rain' or 'normal' modes recommended by the quaking distributor and into 'sport', then wind it open.
For this F3 is insanely quick, with hair-trigger response, a feral soundtrack so addictive it should be illegal, and handling that rocks you permanently on the brink of adrenal overload. I loved it.
It's gorgeous to look at - from that sharply raked front to the tapering rear it's every millimetre a high-speed weapon, yet penned with such skill it literally had passers-by stopping to admire it. Then they notice the fanned trio of stubby exhausts and the questions start.
Yes, it's an in-line triple, fielding 675cc from a very compact package with a counter-rotating crankshaft similar to that used in Yamaha's factory YZR-M1 MotoGP bike, titanium inlet and exhaust valves and a long list of other techo goodies. The motor weighs just 52kg of the bike's 173kg (dry) total, and you can adjust throttle sensitivity, torque, engine braking and responsiveness, even the rpm limit, via a handlebar-mounted button which also lets you set each of those separately to suit your skill and environment - from road to track.
Find an open piece of tar and you're in two-wheeled Nirvana, for the high-revving, responsive weapon will send you streaking through the scenery.
But when it tightens up things can get interesting, for throttle response and fuelling can be unpredictable at lower revs or while transitioning on and off the throttle, while suspension from the Marzocchi forks and Sachs rear that is supple at high speeds and over smooth terrain is pretty unforgiving on normal Kiwi roads. Adjusting both for rebound, compression and preload offsets that somewhat but you just won't care how harsh ride is, as you wind it on to hear the thing scream, hitting around the 10,600rpm at which the 71Nm torque peaks at 100km/h in first with 3800rpm to go until you find the 94.2kW power peak, tailing off toward the 17,000rpm top end.
Only total commitment in first will give you the full monty around the open road speed limit; any less and you may as well have bought a scooter. More? You'll get arrested - take it to the track.
The flip side is the F3's not at its best at round town speeds, but that's like criticizing Phar Lap for being less than tractable at the pony club gymkhana, and I bet an ordinary rider couldn't have managed his moods while I'm getting the hang of this F3 just fine, thank you very much.
Particularly since that thoroughbred response might make the F3 skip and wriggle through the bumpy bits but holds her steady through corners, and those 320mm double floating discs up front and single rear 220mm disc do a stupendous job of pulling it up.
Though it looks tiny, the F3 is a surprisingly comfy ride for such a sports focused machine. The 16-litre fuel tank could almost be called sensible and at $21,490 it's incredible value for money, with the power and weight to see off most rivals; variable riding modes; high-quality suspension and braking parts; and the sort of acceleration you'd need a second mortgage to attain on four wheels. But more than that it's engaging - it's not simply a high-speed weapon, albeit one which needs a smoother delivery for real-world riding to achieve perfection. Unlike many of the warp-speed-quick bikes bought by ordinary riders like me, you feel a part of this machine; the difference between your horse bolting to escape its rider, or kicking up its heels and thundering into the sunset out of pure joy at the blend between man and muscle.