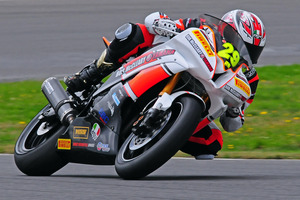 Canterbury motorcycle ace Jake Lewis is still only a teenager but he's ready to branch out in search of international acclaim.
The 17-year-old from Rangiora has immense potential and possibly a big future ahead after winning national motorcycle road-race titles in two consecutive seasons - he picked up the New Zealand 125GP title last year and then collected the 600 superstock crown at the fifth and final round of the Superbike Championships in Taupo just over a week ago.
In both instances he was making his debut in the class.
This year he was riding a Bob McCleary Yamaha R6, a huge leap in horsepower from the 125cc bike he rode a season ago, but he's a quick learner and certainly lacks for nothing in the talent and bravery departments.
He won the 600cc superstock title this year with a race to spare.
"I was surprised with how much I dominated and at how fast I seem to be going so early in my career," he said.
Lewis is preparing for a season of racing in Europe, contesting the European Junior Cup series which starts at Assen, in the Netherlands, on April 22. Lewis and his former road-race champion dad, Rob Lewis, will be based in Europe for seven months.
"I'll be tackling the European Junior Cup and have also been offered 600cc superstock wildcard rides in the World Superbike Championships, all the time racing a Yamaha R6," Lewis Jnr said.
"A French team approached us after following my progress here in New Zealand and that's how the wildcard rides have come about. We'll be supported by them but doing most things for ourselves, with dad acting as my mechanic."
Lewis has already experienced racing at this level after racing as a wildcard rider at two rounds of the European Junior Cup last season.
"I raced at the UK round of the series last year at Silverstone and finished seventh ... and there was only 1.5 seconds between all the top seven riders.
The lead swapped about eight times a lap. I was actually running fourth with just two corners to go in the race. "Then I raced in the French round at Magny-Cours and finished second.
"The racing was so intense and that's what I think has helped me back here in New Zealand. It's given me a mental toughness and perhaps made me more aggressive on the track. It has certainly helped me."
Lewis intends to return and defend his 600 superstock crown in New Zealand next season.