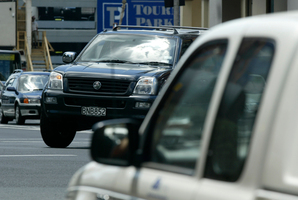 Auckland drivers are justified for bemoaning the city's gridlocked roads - a study has found the traffic slows to a stop more often than notoriously congested Los Angeles.
Research by GPS navigation company TomTom shows Auckland drivers experience an average of 9360 stop-starts in traffic a year - about one stop a day more than Los Angeles, where drivers average 9000 stop-starts a year.
The study, done for lubricant company Castrol, used information from TomTom's satellite navigation systems on vehicles in 50 cities worldwide.
Two New Zealand cities were included in the study and, perhaps unexpectedly, Wellington drivers had it even worse than those in Auckland.
Motorists in the capital experienced an average of 9480 stop-starts a year, or an extra stop every third day compared with Aucklanders.
The study found drivers in both Auckland and Wellington faced fewer stop-starts than many large cities overseas, including Beijing (28,200, or 201 per cent more than Auckland), New York (15,480, or 65 per cent more) and Sydney (13,200, or 41 per cent more).
But surprisingly, drivers in both New Zealand cities faced more stop-starts than those in several larger cities - including Los Angeles (9000, or 3 per cent fewer than Auckland), Melbourne, Cape Town and Toronto. The worst city for stop-starts was Istanbul, Turkey, which had an average of 31,200 a year (233 per cent more than Auckland) while the best was Rotterdam, Netherlands, with an average of 6120 a year (35 per cent fewer than Auckland).
TomTom head of traffic Ralf-Peter Schafer said the results were fascinating. Castrol senior development technologist Gareth Bracchi said the project confirmed drivers were making lots of stop-starts in their vehicles. "In fact the numbers of stop-starts per year far exceeded our initial expectations - almost double in some cases."
- APNZ