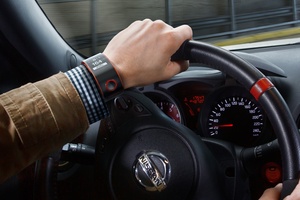 Nissan is set to become the first car manufacturer to create a "smartwatch" designed specifically for drivers of its cars. The company says its Nismo concept watch will be the first smartwatch to connect a driver to the car and will provide drivers with real-time biometric data.
The watch, which will be on display at the Frankfurt auto show this week, will allow drivers to monitor the efficiency of their vehicle with average speed and fuel consumption readings, access vehicle telematics and performance data while on track, capture biometric data via a heart rate monitor, connect to the car using a smartphone app and receive tailored car messages from Nissan.
The Nismo watch will be available in three colours - black, white or black and red.
Nissan says its designlook was inspired by "the Nismo ring and is reflected in a seamless, futuristic and ergonomic design". Whatever that may mean. Still, at least the heart rate monitor will come in handy to check if you are still alive after you drive off the road because you are constantly checking your watch ...
Ocean to ocean in a Model A
Australian motoring enthusiast Rod Wade (right) is aiming to set a world record as he drives against the clock from New York to California - in his 1930 Ford Model A.
As well as paying homage to H. Nelson Jackson and Sewall K. Crocker, the first to drive coast-to-coast across America 110 years ago, the trip will raise money for the American Kidney Fund.
With kidney disease affecting Rod's wife and daughter, he has raised thousands for Kidney Health Australia and now is looking to support kidney sufferers in the US.
Seventy-year-old Rod and his co-driver Michael Flanders will travel through 10 states as they tackle the 4734km drive in under 60 hours. Their planned route will take them along the Lincoln Highway, the pioneering American transcontinental route championed by Henry Ford, and part of Jackson and Cocker's original crossing, as well as down sections of famed Route 66.
They will mark the start of their non-stop journey, which begins on Columbus Day (October 14) by filling a bottle with water from the Atlantic Ocean, just off Staten Island. The water will then be poured into the Pacific Ocean when the pair arrive at Venice Beach, Los Angeles. That's when the clock will stop and a world record will be set.
At the heart of the challenge is the car - a 1930 Ford Model A, built in Rod's workshop.
Affectionately called Tudor Rose, the car is well accustomed to handling tough terrain as it has recently completed the Peking to Paris Rally.
For more information on the Ocean to Ocean Challenge visit vintageadventurer.com
Is it 40-millionth Corolla?
While the bloke who bought the 50-millionth Toyota sold in the US got his Camry paid for and a new RAV4 chucked into the deal, the person who bought the 40-millionth Corolla sold in the world got ... well, nothing.
This isn't because Toyota has come over all tight-fisted or anything. It is simply down to the fact that it doesn't exactly know when or even where the milestone Corolla was
made or sold.
The impressive number easily makes the Corolla nameplate the biggest in the world, with more sales than the Model T Ford and the Volkswagen Beetle combined.
But the downside of such huge numbers and such widespread use of the name means that, instead of sitting in a museum somewhere, No 40,000,000 is a bit of an unknown
quantity.
A number of vehicles in different markets around the world wear the Corolla name- including the local hatch and the totally unrelated US-spec sedan (pictured with an
original Corolla).
Even more are based on its platform, making an exact count of Corolla numbers a hiding to nowhere.
However, Toyota has set up a section on its website (www.toyota-global.com/showroom/vehicle _ heritage/corolla/) celebrating 47 years of Corolla sales and the 40-millionth
Corolla, wherever it may be.
Customer retention Ferrari style
While a Ferrari California would probably be one of the last cars you would want to try to ford a river in, sometimes Mother Nature has other ideas, as a Canadian lawyer recently found out.
Howard Levitt was driving his 2010 California through a tunnel in Toronto when it started to fill with water. Levitt had to abandon the car, which was later written off by his insurance company.
He decided to replace it with a brand new California of the same light metallic blue colour - we didn't say he had taste. But when he went into his local Ferrari dealership, there was a surprise waiting for him: Ferrari had heard about his misfortune and was all ready with a ''very generous'' deal on a brand new 2013 model.
Levitt's new California will be delivered in November and we can only assume he is one person who is very pleased with his after-sale support.
We are the world

When a man in Kuwait found a stray lion wandering through an upmarket suburb recently he did what any sane person would do and herded it into his car and sat in the car with it until he decided it was ''too dangerous'' and called the police. The lion was eventually
transferred to a police car and taken away, ''glaring out of the back''.
Police are looking for the owner of the lion - who was probably rearing it illegally. Having a lion is seen as a status symbol by wealthy people in the country.
Number Crunching
1966 YEAR The first generation Toyota Corolla was launched.
2012 YEAR The 11th generation of the Corolla was launched.
1974 YEAR Generation three of the Corolla was launched, including a two-door liftback...
1991YEAR Carburettors are retired from generation seven Corolla.