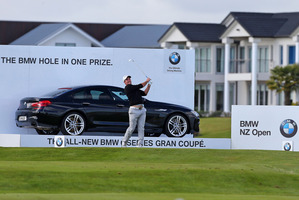 In a new partnership that suits the two parties to a tee, BMW New Zealand has become the official sponsor of the New Zealand Golf Open.
Set to be the biggest golfing event hosted in this country for many years, the NZ Open will be contested at The Hills and Millbrook Resort, in Queenstown, from February 27 to March 2, 2014.
"BMW is naturally very excited to be a key partner of New Zealand Golf and sponsor of the new NZ Open format as both represent excellence and innovation in their respective fields," says BMW NZ's managing director, Nina Englert.
"It's a fitting association considering BMW is the leading premium automotive brand in New Zealand and golf is the number one participant sport in the country.
"Our partnership with NZ Golf and sponsorship of the NZ Open also creates opportunities for interaction between customers, spectators and players as part of this hugely popular global sport."
This latest announcement follows BMW's long involvement with golf locally, where the brand has been vehicle supplier and, most recently, official title partner of the NZ Open and remains a key partner of NZ Golf.
The new partnership signals BMW's commitment to fostering a world-class tournament with widespread international participation in one of the nation's most picturesque regions.
"BMW is renowned as having a passion for perfection and innovation across all facets of what we do, ranging from driving dynamics, EfficientDynamic fuel-saving measures through to technological and safety advancements," says Englert.
"This new tournament, specifically the integration of the Pro/Am format, is representative of an organisation which is similarly brimming with innovation and a desire to develop a new and exciting product with aspirational appeal. These reasons alone reinforce the positive partnership between BMW and the NZ Open."
BMW has long been regarded as the leading brand when it comes to golfing engagement, building on the world's biggest golf tournament for amateurs, the BMW Golf Cup International.
In addition to this tournament, BMW is a partner of significant professional tournaments such as the BMW Championship, Ryder Cup, BMW PGA Championship and BMW International Open, which has helped to grow the automotive company's involvement with golf into one of the largest and most widely recognised global partnerships.
Internationally, the motoring brand is also celebrating the most sales ever for the first six months of the year. BMW Group, with a total of 954,521 vehicles delivered worldwide, shows an increase of 6 per cent over the same period last year (compared with 900,566 in 2012).
Sales in June also reached an all-time high with 184,489 vehicles sold worldwide last month, an increase of 6.9 per cent over the previous year (172,528).