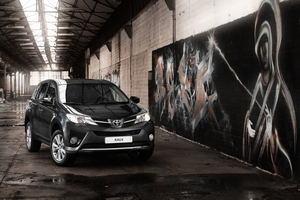 Less than a week before its New Zealand launch, Toyota's fourth-generation RAV4 has earned a top safety rating from the crash test watchdog.
The Australasian New Car Assessment Program (Ancap) has awarded the RAV4 a top five-star rating, largely helped by its count of seven airbags including a driver's knee airbag, and technology including seatbelt reminders for all seats.
Ancap chief executive Nicholas Clarke said the RAV4 would be competing in a part of the market where two out of every three off-roaders rolling out of showrooms carried a top safety rating.
"The RAV4 will be competing in a very competitive segment of the market and its five-star Ancap safety rating brings it to a new level in terms of safety," said Clarke. "This means more and more motorists will be driving in five-star safety."
Ancap noted some higher-specification RAV4 models added more safety technology, including adaptive front lighting, blind spot monitoring, daytime running lights and a reversing camera.
Ancap's crash rating for the RAV4 was based on a Euro NCAP test of a left-hand-drive diesel-engined vehicle. According to the crash test, driver head, chest and leg protection was rated "acceptable" for the frontal offset, which simulates one car turning in front of another, while both the side impact and pole test returned a "good" rating.
The RAV4 joins the ranks of the Volvo XC60, Ford Kuga and Honda CR-V as top-rating mid-size soft-roaders. All four vehicles include potentially life-saving side curtain airbags that drop down to cover the windows and protect occupants' heads in a side-on collision.
Toyota RAV4