Mercedes launches its market-changing A-Class hatch range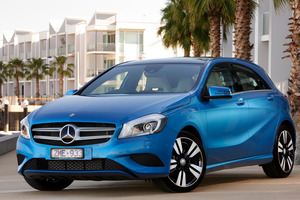 The littlest Benz has never quite hit the market where it's needed to - traditionally attracting a more mature driver rather than the younger, aspiring Merc owner it's needed to.
But that's all changed with the latest version of the A-Class - with sporty bits, excellent engine options and some very sharp pricing giving the hatch not only a younger look and feel, but also a value proposition that could potentially see the brand converting owners. And these possible purchasers are as likely to come from other market segments as they are from other brands.
While the flagship model, the A250 Sport, gives a luxury taste of what the rest of the range offer, the entry A180 is the surprise star of the range with a happily revving petrol engine giving the advanced chassis plenty of work to do when pushed hard, but an extremely comfortable and highly specified machine when dawdling along in traffic.
Between the top and bottom sit a diesel and petrol A200 and coming later this year there's the hot A45 AMG with a 2-litre four-cylinder that puts out a stunning 265kW.
When you consider the A180 BlueEfficiency with its 1600cc engine only puts out a meagre 90kW and 200Nm through its seven-speed automatic transmission and still gets along nicely when prompted, AMG's take will be a serious machine indeed.
The $46,900 A180 hasn't been built to poverty-pack specifications though - it's still sitting on 17-inch alloys, you're sitting in sports seats, with a 14.7-inch colour display poking out of the dash, phone connected through BlueTooth and paddle shifters for the 7G-DCT transmission. There's even tasteful colour coding on the grille.
With parking assist and a reversing camera you get a new car with that attention-grabbing and statement-making badge for under $50,000.
The next step is either the A200 BlueEfficiency with the same four-pot 1600cc engine making more power (115kW/250Nm) or the diesel A200 CDi version with an 1800cc engine making 100kW but 300Nm of pulling power, with a thirst of 4.6L/100km and a carbon footprint of 121g of C02 per km. It's certainly the greenest member of the team but does mean road-user charges need to be paid.
Equipment gets another boost in the 200s, with flasher interior trim, sporty silver gauges and 18-inch wheels and a dual exhaust for a bit more traffic-light staunch. Both are priced at $54,900. Add another $10,000 and you're into the A250 Sport with a 2-litre engine that seems happiest when revved hard, making 155kW and 350Nm - and a lot more noise.
It comes with body kit, faux carbon trim and a further upgrade to the sports seats. AMG spent a bit of time with this car, and it shows, but all of the A-Class machines have been under the Mercedes tuning arm's microscope, and this is screamingly obvious when driving any of them hard. Torque steer doesn't really exist unless the surface reveals it. There's minimal understeer and when you're on undulating, flowing roads all four models happily swing from corner to corner with very accurate handling and a confident, engaging feel.
Mercedes-Benz is playing a very aggressive hand with this car - it's throwing down the gauntlet when it comes to the other European brands, and it comes with a huge equipment list including self-parking and collision avoidance systems.
And if the goodies aren't quite up to spec, there are plenty of option packs to further add to the car's technological and cosmetic credentials.
Who should be most worried? Anyone selling larger cars around the same price for starters.
Mercedes-Benz NZ boss Ben Giffin has conservative sales predictions for the A-Class' four first models.
"I can safely say there'll be 200-plus sold in New Zealand this year," he says. "Of course, we will see how much more stock we can get hold of."