The new Jaguar XF is powered by a two-litre turbo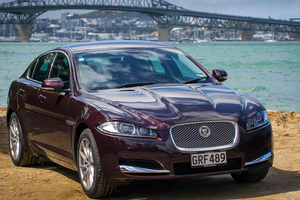 When big brands start doing relatively strange things, people stand up and take notice. Jaguar had already impressed the planet with the style and substance of its entry point XF sedan, which made a huge statement about where the company was going.
The beautifully designed car underlined that it wasn't just a brand for chaps with names like Crispin who favour cheesecutter hats and aren't adverse to a spanking from dear old Nanny. Now Crispin is likely still a Jag fan, but is probably driving the large, luxuriously appointed XJ. Nanny has a Kia.
XF drivers are probably close to those who made the ill-advised decision to buy an XJ6 back in the day. They were a great car, once the Chevy V8 conversion had been done. But the XF is above and beyond what the XJ6 had to offer - it's tech-savvy, nicely sculpted, tastefully appointed and despite having driven several, I haven't seen one sign of an oil leak.
So what did Jaguar's owners Tata do to capitalise on the favour the XF garnered at launch? They put a diesel in it. But the 2.2 four-cylinder oil burner proved to be a match made in economy heaven and very engaging to drive.
Now it's 2013, and we've had a chance to get behind the wheel of the next XF iteration that'll have the marque's purists jumping up and down - a two-litre, four-cylinder turbo.
While announcing the droptop F-Type really gave the Jaaaag tragics something to smile about, it does seem that Tata has a talent for throwing a large cat among the pigeons. It might further inflame the faithful to discover that this engine is Ford's EcoBoost I-4 - used in different tune states in a range of machines from the doomed Falcon, to the stroppy little Focus ST and even in Volvo's V40 and D40s.
The XF takes the 177kW tuned version that's shared by the Falcon. Last year, having tested the EcoBoost Falcon, it was impressive to note how the new engine benefited the car - lighter by 75kg, it improved front turn-in and made good a terrible-handling base model.
Fortunately for Jaguar, it already had a solid handling package in the XF - compliant and comfortable, but more than able to take a beating if needed. The engine has undergone some Jaguar-only changes to bring it in line to that already used in Land Rover's Evoque - especially in terms of noise, vibration, harshness and refinement.
The XF gets the two-litre fitted north-south and when teamed with the eight-speed electronic auto it becomes an extremely tractable unit. It's even quicker to 100km/h than the 2.2 diesel version, despite only having 340Nm of torque compared to 450Nm - making the sprint in 7.9 seconds, instead of its 8.5.
Stump up nearly twice the cash and you can cut that down to 4.9 with the supercharged five-litre V8 in the mad XFR.
But the XFR, for all its good graces and savage abilities, is liable to spend far more time parked next to petrol pumps, spitting out numbers like bank accounts.
During a week with the four-pot XF on both city and ruralish roads, the engine returned around the 8.5-litre mark, but when subjecting the relatively small engine to some turbocharged backroad enthusiasm, that figure jumped to around 11l/100km. Even so, that's fairly impressive for a car that's over 1650kg and packed with leathery comforts, multimedia wizardry and safety business.
To keep up a good pace on country roads it does need to be prodded into life with the boot, and does benefit from the 6500rpm redline if you're in a hurry. But at normal pace it doesn't seem as vanilla as you'd expect. The four- and six-cylinder diesels with their torque advantage pull away from the line with a woosh; to get the same cracking launch speed in the two-litre it needs coaxing, but once moving there's very little between them.
If this type of revolutionary thinking is what Tata plans to keep the cat pouncing, it'll be hugely interesting to see where it goes next.
The $90,000 tag on the XF 2.0i4 Luxury (same as the 2.2D) gives you motorised vents and buttons that slide open when prompted, a touchscreen that connects via Bluetooth to your phone, and if you fork over a few bucks, a subwoofer-packing Meridian sound system that has to be heard to fully appreciate.
Revelling in comfort and looking smugly out at those in lesser machines or, heaven forbid, public transport, is something that comes free with Jag ownership.