Latest luxury SUV offers style, room, good performance and top towing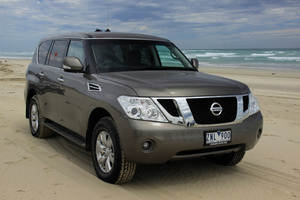 Nissan's new from-the-ground-up Patrol raises an interesting point. Is its arch-rival, the Toyota Land Cruiser, over-equipped with off-road technology for the second decade of the 21st century, and if so, does Nissan have it right?
The seven-seat Patrol, which dumps diesel power for a 5.6-litre V8 running on 95 octane or better, rebrands the nameplate from a tough bush wagon to a luxury SUV oriented towards on-road touring and towing, thanks to a newfound 3500kg brake rating.
The Patrol's 32-valve DOHC alloy Yokohama-built V8 features Nissan's VVEL (Variable Valve Event and Lift) technology and new Direct Injection petrol system. It's a smooth and classy unit.
Underpinning a sleek and rather handsome body is a new ladder chassis, but the off-road-ready beam axles have gone, replaced by independent suspension on all corners. This arrangement, assisted by some new technology provides a huge improvement in street ride and handling.
"The new Patrol is aimed more at the premium end of the SUV market, focusing on customers who want a fully featured SUV with class-leading technology, space, comfort and safety features," says Nissan New Zealand boss John Manley.
It was designed primarily for the Middle East. Russia and Australia are shaping up as the second and third major markets.
So gone is the overtly tough press-on-regardless nature of its predecessor, the Y61 Patrol, a vehicle prized by Nato, the UN and government relief and aid agencies worldwide.
It's also the vehicle of choice of our Special Air Service and the police special tactics squad.
The Toyota, meanwhile, carries on with a now ageing design embodying considerable off-road presence that was at least the equal of the Y61 and probably better.
But with prices pushing $148,000 for the top VX Limited, few people are buying Cruisers for use on tracks and trails, so its off-road competence is largely wasted. It's the same with such vehicles as Range Rover, Jeep Grand Cherokee and Land Rover Discovery.
Nissan's plan was to bring the Patrol further on to the road, while equipping it with good off-road ability, should it be needed; seemingly a sound plan for a marketplace whose idea of a SUV has gradually changed to towing boats, horse floats and ferrying the family.
The Patrol's engine drives through a seven-speed automatic transmission and an electronically controlled, All Mode 4x4 system of the type now becoming popular on high end SUVs.
It's worked by a circular electronic switch cluster behind the gear selector and sets-up the Patrol for sand, rock, snow or on-road driving. It also activates a rear differential lock, New Patrol rides the high road
Nissan's plan was to bring the Patrol further on to the road.Hill Descent Control, low-range gearing and turns the stability control on and off.
Nissan has priced Patrol at $114,000 for the leather and sunroof-equipped Ti specification, the only version available in New Zealand. In Australia, it's the middle of three models.
Despite being the most expensive Nissan sold in New Zealand, apart from the high-performance GT-R, the new Patrol represents good buying in an expensive segment. A base Land Cruiser VX costs $125,790 and the super-luxury Lexus LX570 starts from $196,900.
The Y61 left our showrooms carrying a $78,300 price tag.
The Australians continue to sell this older model, but it's gone from New Zealand, where demand dwindled from a once healthy 40 a month to just a couple.
The new Patrol gives most buyers with six figures to spend all they want in an SUV: style, room, good performance and top towing.
Its pricing and fresh design direction mean that the Toyota, Lexus and other large luxury SUVs may find the Patrol tracking deep into their territory.
Wagon's party trick
Nissan has fitted the Patrol with its Hydraulic Body Motion Control (HBMC) technology that reduces body roll in high-speed corners on sealed surfaces and maximises
suspension travel off-road.
Developed for world rallying, it's the company's first application of the technology for the road.
Hydraulic chambers integrated into each shock absorber automatically control suspension travel.
These chambers are cross-linked with piping, allowing transfer of hydraulic fluid.
When cornering, roll stiffness is increased, reducing the amount of body lean over the outside wheels.
HBMC can vary suspension travel independently on either side of the vehicle, giving a flat, stable ride.
Off-road, the lack of anti-roll bars allows the suspension to rise and fall with less impediment, helping maintain traction.
Driven tried it on- and off-road during the Australasian media launch near Mount Gambier, South Australia, and compared to the base version without it, works well, particularly in smoothing out bumps.

Patrol timeline
1951: Nissan signs agreement to build a Jeep under license to help revitalise Japanese farming industry. First Patrol launched. Bears striking resemblance to Jeep.
1960: G60 Patrol developed, moving from the military austerity of its predecessor.
1980: Third generation Patrol 160 arrives.
1983: Production starts in Spain, for Europe.
1987: Fourth generation, the GQ, introduced.
1998: Fifth generation GU launched.
2000: 4-cylinder 3.0TD ZD30 diesel fitted.