As the V8 Supercars come to the end of their series, Jamie Whincup is looking good ... but not unbeatable.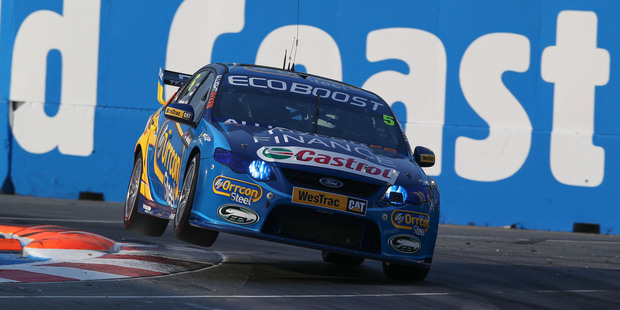 Winton Motor Raceway hosts the penultimate round of the V8 Supercars series this weekend. It has turned into a two-horse race for the championship with Triple Eight driver Jamie Whincup gunning for his fourth title.
Hot on his heels is FPR pilot Mark Winterbottom, who needs to stay in touch with the Holden driver and bag as many points as possible to head to Sydney for a final showdown.
Winterbottom has yet to win a championship title, and knows he needs to eat into Whincup's 296-point lead if he's going to have any chance of snatching the title from him.
Winton is the team's home track and although Winterbottom has been devastating in qualifying - being on pole three times and qualifying inside the top 10 every time since 2006 - he has yet to convert that into race wins at the Victorian track.
"There are still 600 points on offer but it'll be a tough ask to get past Jamie," said Winterbottom.
"We've got to try hard to win races from now on if we want to have a chance to win the championship.
"Being on our home track has its advantages and disadvantages. The track can change a lot, and the car setting you might think is good suddenly doesn't work any more.
"I'm never one to shy away from a contest and you can't give up. We'll be going at it to make sure when we get to Homebush [last round in Sydney] we're in with a chance to try to fight for the title."
The other drivers in the top five, Craig Lowndes, Will Davison and Kiwi driver Shane van Gisbergen, don't really have a realistic chance of winning the championship this year, although Lowndes could sneak into second if Winterbottom has a bad day.
Van Gisbergen is 345 points behind Davison so the chances of leapfrogging him are nigh on impossible. The young Kiwi instead will be keeping an eye on his teammate Tim Slade, who is 115 points in arrears.
"There's a small chance I can crawl up the table, but I'm just concentrating on staying fifth," said Van Gisbergen.
"Tim's the car behind so he's the one we're really fighting."
Traditionally, Winton hasn't been kind to the SBR cars as they tend to like the fast, smooth and open-flowing circuits, so this weekend could be a bit of chore for the team.
Van Gisbergen's best result has been a fourth, which he is still surprised about.
"At least he's [Slade] in the same car as us so that's a small consolation. We'll try our best and see how we go. My fourth last year was the only time we've been in the top at Winton.
"Hopefully the car will be better this year. The track is tight, twisty, bumpy and doesn't seem to suit our car.
"I'm not overly confident and going for a podium would be a long shot. We'll do our best and hopefully we can get enough points to stay in fifth.
"I'm sure we can do it and you can never give up. We've got the team to do it and I'll give it my best shot."
Qualifying has been, by Van Gisbergen's own admission, a struggle at Winton and he's always done better in the races. Who can forget how the 23-year-old monstered his way through the field from 27th in 2009 to finish sixth?
Another Kiwi in the top 10, Fabian Coulthard, is also looking for a good weekend as there are only 80 points between him and sixth place.
"It's good to be back inside the top 10," said Coulthard.
"We didn't have the best enduro rounds, but you've just got re-group and try to get every point possible over the remaining rounds.
"It's quite important to me finish the season in single figures and if everything goes to plan we should this year.
"I think getting up to sixth is achievable. I'd like to think I've got my bad rounds out of the way and the car's good at Winton - which is our test track - and I'm quietly excited and confident."

Standings
V8 Supercars points after 12 rounds
1. Jamie Whincup 3360
2. Mark Winterbottom 3064
3. Craig Lowndes 2971
4. Will Davison 2779
5. Shane van Gisbergen 2434
6. Tim Slade 2319
7. Garth Tander 2232
8. Lee Holdsworth 1913