Humble Hyundai is up with the big names for top award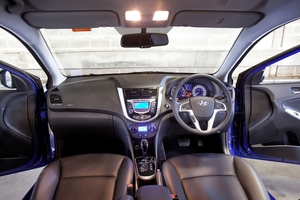 You don't need to pay a fortune to drive a car with a superior interior. That's clearly shown by the list of competitors for an international award, which has a $34,490 car up against a $143,700 luxury model.
The auto industry website WardsAuto runs an annual competition for the top 10 cars with the best interiors, and this year the under-$35,000 Hyundai Accent is a finalist with the expensive Audi A7.
The WardsAuto editorial staff selected the 10 winners from a field of 40 vehicles with new or significantly improved interiors. There was no price cap on entries.
The winners, in alphabetical order, were:
* Audi A7
* Chevrolet Sonic
* Chrysler 300 Luxury
* Dodge Dart
* Hyundai Accent
* Hyundai Azera
* Infiniti JX35
* Mazda CX-5
* Range Rover Evoque
* Volkswagen Beetle
The website doesn't select an overall top spot, so all the vehicles are winners.
"We saw a tremendously diverse group of interiors this year, and it's obvious to us that auto makers are pushing their design staffs harder than ever for interiors that are beautifully appointed, well-equipped and extremely comfortable," said WardsAuto editor-in-chief Drew Winter.
Luxury vehicles dominated this year's competition with 13 entries, more than any other class.
The Audi A7 and Range Rover Evoque are available in New Zealand, as are the recently launched Mazda CX-5 and Accent hatchback.
The A7 won over the judges with interior styling that is every bit as dramatic and inviting as the sheet metal.
The luxury liftback tilts toward the exotic and looks expensive.
WardsAuto said the Evoque's passenger versatility and no-nonsense premium appointments made it the "ideal complement for a brand known for extreme off-roading".
"Being both luxurious and rugged would seem to be extremely difficult, but Land Rover makes it look easy with the new Range Rover Evoque," said Winter.
The Accent's interior showed attention to detail, with swooping lines on the instrument panel and many of the Hyundai-family centre-stack elements, said the judges.
The WardsAuto team liked the compact SUV CX-5's "restrained, straightforward interior approach" to a segment that, for many, takes the place of MPVs as the vehicle of choice for young families.
Criteria used by its editors in scoring the nominated interiors were ergonomics, safety, material selection, value and aesthetics.
Judges rated each interior's human-machine interface in determining how effectively vehicle info was communicated to the driver.