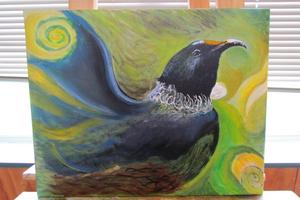 Artwork made behind bars is on display in Whanganui to raise funds for the Whanganui Restorative Justice Trust.
Works by 12 prisoners are on show in Wanganui's Davis Central City Library this month, in an exhibition themed Aotearoa - Our Land, Our People.
The Whanganui Prison partnered with the Davis library to host the exhibition of about 30 artworks and Prison Manager, Reti Pearse, said art played a significant role in prisoner rehabilitation.
"The prisoners who contributed to the art exhibition see it as an opportunity to give something positive back to the community," he says.
The Department of Corrections' goal is to reduce re-offending by 25 per cent by 2017 and Pearse said the art programme provided prisoners with a chance to practice and strengthen communication skills alongside the group therapy, education and training.
Prison art tutor, Carol Gash, said the exhibition featured a range of works from paintings, to pencil works, to one-of-a-kind carvings.
She said the works were of a high standard and illustrated Maori mythology, portraiture and New Zealand landscapes.
"People who view the exhibition will be pleasantly surprised at the creativity and resourcefulness on display," she said.
The exhibition also includes two large murals painted by women prisoners from Arohata Prison just outside Wellington.
The murals are approximately 2.85m wide and 1.8m high and this is the first time they will be on public display.
The exhibition is curated by Sarjeant Gallery curator Greg Donson and runs from today to June 30.
Entry is free and most of the artworks are available for purchase, with funds raised going to the Whanganui Restorative Justice Trust.
Exhibition details
What: Aotearoa: Our Land, Our People Prisoner Art Exhibition
When: Monday 9 June - Monday 30 June 2014
Where: Davis Central City Library, Campbell Street, Queens Park, Wanganui