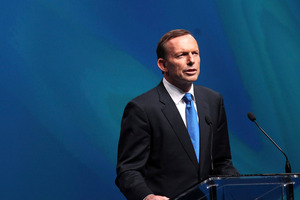 Ascending the stage to the stirring accompaniment of Eye of The Tiger, the mining billionaire and aspiring prime minister Clive Palmer yesterday promised Australians "a revolution" - and also a 15 per cent tax cut - if they vote his Palmer United Party into government on September 7.
Australia needs to rekindle the Anzac spirit and "return ... to being the Lucky Country", Palmer told party members gathered for the official campaign launch at his five-star resort in Coolum, on Queensland's Sunshine Coast, where guests are greeted by an 8m-tall tyrannosaurus rex replica named Jeff.
In a speech following an hour-long warm-up, during which one of his candidates likened him to Martin Luther King, Queensland's richest man declared Kevin Rudd and Tony Abbott "boring". Both "want to tax us to oblivion", he said, with Abbott planning to "shrink the economy to the size of a pea" and Rudd paying "more attention to his hair than the needs of the Australian people".
Palmer United, by contrast, plans to "turbo-charge the economy" by an extra A$70 billion ($81 billion) a year, by having companies pay tax annually on earnings rather than quarterly on projected profits. As well as cutting income tax, Palmer announced, he will increase the aged pension by 20 per cent and inject A$80 billion into health and A$20 billion into education.
There may be as much likelihood of him running the country in a fortnight's time as of (real) dinosaurs once again roaming the Earth, but that in no way dampened the festive atmosphere in the conference hall, which was decorated with giant yellow posters proclaiming "It's time for Australians to stand up for their country" and "We can do better".
Matt Adamson, a former rugby league player and Senate candidate for Palmer United, noted that 50 years ago Martin Luther King delivered his speech at the Lincoln Memorial in Washington DC. "You know what," said Adamson, "Clive has a dream too."
Although the party is Queensland-based, it is fielding candidates in every House of Representatives seat, as well as Senate teams.
Palmer, who later swatted aside questions on how he would fund his promises, said: "I'm different in that I'm not seeking election for money or recognition. I get recognition everywhere I go anyway, and I've got enough money."