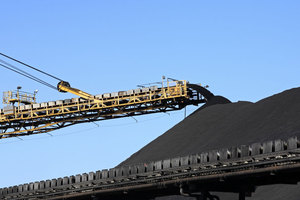 Westport residents showed their support for a new open-cast coal mine yesterday by decorating the town in the Buller colours of red and blue.
The Denniston Escarpment mine came a step closer to gaining approval on Thursday when the Environment Court indicated to the Australian miner Bathurst that consent was likely subject to the final drafting of consent conditions.
Environment West Coast interim chairman Brent Oldham said the decision was greeted with a sense of relief and celebration on the Coast.
Mindful that every time a decision went in favour of Bathurst, a flood of protests and legal challenges seemed to erupt from organisations such as the Green Party and Forest & Bird, the relief was tempered with concern over what those groups would do next.
Mr Oldham said Buller's response to the Bathurst news had been universally positive and the decorations were its way of showing support.
The news was "massive for the district" and the beginning of a rebuild.
- Westport News