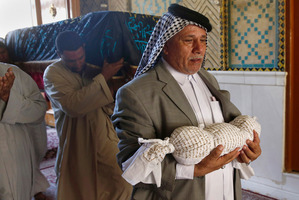 Sheikh Mahmoud Abdel Rahman cradled his 11-month-old grandson Latif's tightly wrapped body, his face grim and his eyes downcast, trailed by men bearing the coffin of the infant's mother.
The mother, Hasnah Abdel Rasul, and son were killed the day before by a bombing in Baghdad - two among nearly 1000 Iraqi lives lost to violence in September.
The infant was wrapped in a shroud inscribed with verses from the Koran as Abdel Rahman carried it in a procession to bury his two loved ones in the Shia holy city of Najaf.
Sectarian bloodshed has surged to levels not seen in Iraq since 2008. More than 5000 people have been killed since April, when a deadly Government raid on a Sunni protest camp unleashed a new round of violence that showed al-Qaeda in Iraq is still strong despite years of US-Iraqi offensives against the terror group.
At least 979 people - 887 civilians and 92 soldiers and national policemen - were killed in September, a 22 per cent increase from the previous month, the UN mission in Iraq said yesterday.
Baghdad was hit hardest, with 418 violent deaths.
The UN also reported that 2133 people were wounded nationwide in the relentless car bombings, suicide attacks and shootings.
The spike reversed a brief decline to 804 in August after the death toll reached 1057 in July, the highest since June 2008 when 975 people were killed.
By comparison, 3718 civilians were killed in December 2006, the deadliest month of the war, according to a US military tally.
An influx of US troops, a Shia militia ceasefire and a Sunni revolt against the extremists among them combined to stop the country's slide towards civil war in 2008.
While violence has never stopped in Iraq, the double-digit increase in daily death tolls has stunned many Iraqis after several years of relative calm. It also has raised fears that Shia militias could renew their campaign of retaliatory violence.
"If the security forces are not capable of protecting us, we will protect ourselves and end the misery," said Hatem Muhsin, who lives in Sadr City, a Shia enclave in Baghdad. "The sectarian war has just started."
- AP